| | |
| --- | --- |
| Site | www.xhamsterlive.com |
| Languages | English, Italian, French, Russian, Deutsch and 13 other languages |
| Payment options | Credit and Debit card, Local cash vouchers, PayPal, Astropay, Skrill, Cryptocurrencies |
| Pricing | $0.11 per Token |
Pros
Many categories to choose from
Smooth and interactive interface
Many languages
VR cams
Cons
Poor video resolution
Instances of incorrect chat translations
Xhamsterlive is a multilingual webcam that houses mouthwatering models, ready to put their bodies on display for your satisfaction. It is a live porn site with exciting and interactive chat features.
You can watch live shows for free, but specific actions require tokens. There are three membership programs, and they are relatively inexpensive.
Xhamsterlive is a very colorful and attractive webcam with the finest models. So, what are you waiting for? Get an account today!
Signing up at Xhamsterlive
To get the sexy stuff going, you need to own at least a guest account on Xhamsterlive. Without registration, you cannot view live shows on the webcam.
The registration process is very simple and straightforward. There is a form provided with spaces to fill in with a username, a password, and an email address. After this quick and straightforward process, you will have to verify your account with a message sent to the mailbox of the address you registered with. Without this, you won't be able to send messages during live cam chats.
Registration is free on Xhamsterlive, and you do not need your financial details during registration.
Models at Xhamsterlive
Models are the roots of every webcam industry. They are what we, the broadcasters want to see, so the best of the best must be put in store for us.
On Xhamsterlive, different models of different shapes and sizes are available for you. Whether it's the black, Asian, white, busty, gay, she-male, Arab, or whatever criteria you use to select your models, they are all here, waiting for your attention.
Not only are the models available, but they are also ready to do nasty stuff for you. The big tits girls know how to bounce it, and the guys with huge cocks know how to shake it.
The majority of the models are Black. All of the models are sexy, and there are four categories of models on this platform. Girls, Guys, Couples, and Trans.
Girls
About 80% of all platforms have male subscribers most dominant in the population, so the female models have to be perfect.
Xhamsterlive has a wide variety of female models to pick from. Busty, slim, petite, stallion, and the list can go on. There is a filter to make the selection process more straightforward.
The female models always give that "fuck me please" vibe, and if you are a quickie type, you won't enjoy the show for long.
Most of these girls have sex toys you can virtually control, like dildos and vibrators, but for token tips. There are plenty of sections under this category to pick from, and they all are fucking good.
There are also hot lesbian models who know how to get homosexual shows running. They can turn you on in minutes, and they are damn impressive.
The female section has the highest number of models on this webcam.
Guys
The male category is filled with exotic dudes with fantastic body shapes and cock sizes. You can find them all here regardless of your fetish; chubby, slim, stocky, and built up.
Dudes that are ready to fuck are all that you will see here. The gay guys know how to move their body and their ding-dongs also.
Some models have sex toys to boost the realism of the fuck experience. The male models are the second most populated on the webcam.
Couples
If you have a partner, and you both want to watch other couples fuck live, then check out the couple category in Xhamsterlive.
Xhamsterlive features gorgeous couples that know how to fuck in very amazing styles. They will showcase to you and your partner different mind-blowing sex styles.
There are gay and straight couples on the webcam. You can also find gangbangers and BDSM couples on the platform.
Trans
For the trans, you are not left out of the fun. There are she-male and other heterosexists with impressive performances in store for you.
There are some that even get dressed, and you will have to read the tags to know they are trans. The trannies are very hot and erotic.
Model's profile
The model's profile is a page with personal and work-related information about that particular model. If you want to select a favorite model and you really want to know her, the profile page contains all sorts of information.
You can find her stage name, age, nationality, language, and other personal information. You will also find erotic details like body type, fetishes, and turn-ons. Social media platforms are also included, but you must have an upgraded account to access them.
Every model has a fan club where she posts pictures and videos, but you must subscribe to participate.
There is also a video and photo gallery, but you have to be a fan club member to view them.
Xhamsterlive Chat Features
Xhamsterlive has many exciting chat features and modes to keep viewers' attention. In the free mode, there are limited actions that you can perform, but for les cremes des cremes, it is best you go for the premium subscription.
The ultimate subscription is the name given to the premium membership of Xhamsterlive. It is a monthly payment that comes with the full perks of the webcam.
With this subscription, you can send unlimited private messages and get badges, emojis, and 24/7 customer service priority. The ultimate subscription goes for $19.99 per month. There is a free seven-day trial for users that buy tokens.
Some of the major chat features include;
Public Show
The public show is open to all viewers, regardless of your membership status. You get to see the models perform live, and you can make a request, but for tokens.
Except if you want to watch sexy live cams, there isn't much to see on this chatroom.
Private Show
The private show is an intimate face-to-face show involving just you and the model. You can join by clicking on the 'start private show' button at the bottom of a regular show. However, you have to be an ultimate subscriber to access this feature.
During the private chat, there is a private menu with a list of activities for the model to perform.
You also need tokens to use this feature. The price range is between 8-150 tokens/minute, depending on the model you are viewing.
You can leave the show at any point, and it automatically stops when your token finishes.
Spy Show
The spy show is passive, just watching other viewers' private chats. It is for the Voyeurs in the house.
Ultimate viewers can use tokens to peak into the private chat room of other viewers for 15 seconds. If you like what you see, then you are to pay the specified amount by the model.
During a spy show, you cannot send messages. You are just a spectator.
Virtual Toys
Some models have virtual toys, like dildos, vibrators, and straps. You can control them with tokens.
Xhamsterlive Streaming Quality
Xhamsterlive might have missed it here. The cams could be better, and few models use HD cams. They have really bad lighting, and their live shows have these bad video lines.
Since the shows are live, the blame can be put on the internet connections from the model's side. The lowest picture quality is 160p, while the highest is 720p, which could be better.
There is a VR section; you can view these live streams with virtual reality headsets. They are free and don't require tokens.
Cam 2 cam shows are only available during private shows. You will need a functioning webcam and microphone. Mobile users won't require external webcams.
The chat rooms are interactive and have many reaction features. But they all require tokens to operate.
Pricing
The pricing rates are fairly okay on Xhamsterlive. The token rate is $0.11 per token, but changes are made, as the number of tokens increases.
There is also an exclusive ultimate member package, but it is only available on credit and debit cards.
Token Rates
1 token- $0.11
45 tokens- $4.99
90 tokens- $9.99
200 tokens- $20.99 + 5% bonus
540 tokens- $49.99 + 20% bonus
1100 tokens- $96.99 + 25% bonus
Payment Methods
Xhamsterlive offers many payment methods to choose from. There are two billing providers; Epoch and Centrobill. They offer the same rates for all the tokens.
Some of the major payment methods on this webcam include;
Visa
Mastercard
Discover
Local cash vouchers
PayPal
Astropay
Skrill
Bitcoin, Litecoin, and other Cryptocurrencies.
Xhamsterlive Mobile Site
Like most live sex cam sites, Xhamsterlive also owns a mobile domain. It does not have any difference from the desktop version.
It still has an exceptionally smooth and user-friendly interface, so if you prefer swiping to clicking, you should check the Xhamsterlive mobile site.
I recommend the mobile site for those who enjoy their privacy. The screen resolution is small, thereby ensuring you enjoy your shows personally. All features are available, even the VR cams.
The cam 2cam private shows don't require an external microphone or webcam. In a nutshell, the mobile Xhamsterlive site is a smaller screen version with better portability and easier use.
Xhamsterlive Verdict
The major complaint you will get on Xhamsterlive is the clone features of the popular Stripchat. It is a replica with the same models and features.
Probably, the only evident difference is the color change. While Xhamsterlive has a green and white home page color, the latter is red and black.
Perhaps, it was franchised by Stripchat, but the public has jumped to the conclusion that it is a pirated version.
Aside from the resemblance issues, it is generally easy to use with sexy models. It really focused on diversity, as you can find hosts of all races.
The token prices are fair, but the free mode could be more active. To have interactive chats, you should upgrade to the Ultimate membership.
The chat modes are not abundant, but they are interesting. The display is slightly above average, as most models don't have HD cams.
Generally, Xhamsterlive is a very interactive webcam, but there are a lot of things that could be improved. I'll give it a 3.5/10.
Frequently Asked Questions
Is Xhamsterlive a scam?
Most people consider it a pirated site, because of its affiliation with Stripchat. However, all the while I used this live cam, I didn't experience any kind of sheepish activity or so.
So, this question depends solely on you. If you don't feel okay making transactions on a so-called pirated site, then you can regard it as a scam.
But if you are like me, and just want the sexiest shows, then you should consider giving it a try.
Is Xhamsterlive safe?
Yes, Xhamsterlive is very safe. Information is kept discreet, for anonymity purposes.
The only details required are your username, and a password. Then you will need your email address for verification. You are sure that your email address is not shared with the public.
Financial information is not asked for, only during purchases and transactions.
How do I sign up as a performer on Xhamsterlive?
The sign-up procedure is very simple. You need to enter a valid email address, a username of your choice, and a password. Be careful when choosing your username, because it cannot be changed afterward.
After filling in the necessary information, you read and agree to the terms and conditions. Then a verification message is sent to your email. You click on 'creator' and go to the like show section and click on 'activate' to start your live shows.
Can I use Xhamsterlive for free?
Yes, but the free content are very limited on this webcam. For the best experience, you should get the Ultimate membership subscription.
Is Xhamsterlive expensive?
No. Xhamsterlive is one of the cheapest webcam sites in the industry. For just $10, you will get quality sex shows that will make you cum.
The Ultimate subscription is also very cheap, and the organization does well in giving out bonus tokens.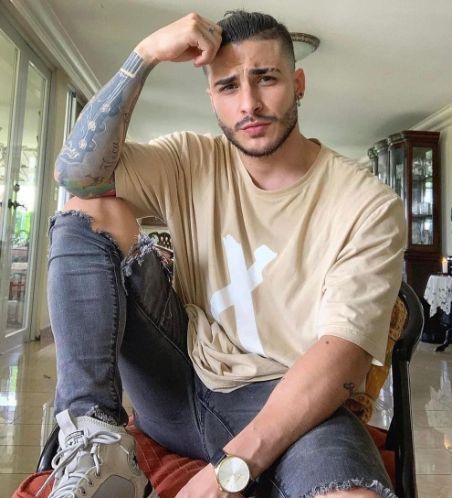 Brian Heimann is a seasoned cam model and expert in the adult entertainment industry. He has worked with top cam sites and knows what to look for when reviewing them.