| | |
| --- | --- |
| Site | www.bongacams.com |
| Languages | English, German, Italian, Portuguese, Spanish, French, and 28 other languages |
| Payment options | Credit card, PayPal, Bitcoin, Ethereum and other Cryptocurrencies |
| Pricing | Between 0.04-0.095€ per Token |
Pros
Numerous languages to choose from
Fast and easy registration
Variety of model selection
Cons
Tips are compulsory
Outdated site interface
Stubborn ads
Bongacams is a webcam site for adult couples and singles, that enjoy live erotic web shows. It is very free to use, unless you are going for the premium account.
It houses the horniest models, regardless of gender, who want to also get you turned on. The registration process is simple, and it comes with many interactive shows and activities for you.
Bongacams is just a decade old, but it is among the hottest sites, to watch models perform live. Most of the models are amateurs and can be found in various sections, based on color, ethnicity and whatever else you desire. If you don't have an account on this webcam page, believe me when I say you are really missing out.
There are eight membership statuses on this webcam, free, gold, platinum, unlimited, sapphire, titan, diamond and exclusive.
Signing up at Bongacams
The registration process on Bongacams is very simple and straightforward. You just need a username and a strong password.
If you are like me, and find it very hard to keep track of all those passwords, then you can verify by adding an email address. There is no verification fee or charges, so beware of pirated sites.
Your financial details are not also required, so you won't need those when registering.
If you want to go further to include personal information, like age, zip address, and other information like this, there is an allocation for it, and they are kept secret.
Models
Ahh, Bongacams didn't miss in terms of models. No matter the category or section, whether black, white, Hispanic, or Asian, you can find them all on this webcam.
The models are almost always online, and they are ready to get nasty with you. However, be ready to butter their palms with tips, because it is necessary for almost all actions. Most of the models have their social media platforms, if you really want to stan them.
There are four categories of models on this webcam, Girls, Guys, Couples and Trans
Girls
If you agree with me when I say the female section is the wine of webcams, then Bongacams has one of the finest wines you will come across in the adult live cam industry.
80% of the registered viewers are male subscribers, that is to show that the female models know how to do their jobs right.
Whether it's the petites, slim, cute, or stallions you seek, Bongacams has all of them in store for you. These sexy goddesses are always ready for action, and they offer the best shows you can possibly find.
There are even hot lesbian chicks, for the lesbian viewers out there. The female models have virtual toys that you can control for token tips.
Guys
Unlike most webcams that leave the female viewers out, Bongacams gives you the best dude models you can think of.
They are very hot male models, ready to give you sexy performances, and fulfill your sexual fantasies. Chubby, slim, cute, and muscular, name them all! There are also gay dudes, who know how to get the shows going, while they are live.
Most of the models under this category usually have their upper bodies exposed, showing off their fantastic fit bodies.
Couples
If you watch your sex web shows with a partner, then this category is for you. Watch different couples fuck in the most amazing styles you can think of.
They are gay couples, bisexual couples, and even gangs of swingers on this webcam. They give you your money's worth, with their amazing sex shows.
Regardless of the style, you can make demands to see them take different styles, but most of them have price lists on their chatrooms.
Trans
The last time I was on this Bongacams, there were 106 active models under the trans category, which is an insane figure compared to other webcam sites.
There are a lot of models under this category, and Bongacams didn't leave the trannies out of the fun.
She-males, queers, and other transsexuals can be found in these web shows. They are really beautiful, and know how to arouse their viewers.
Model's profiles
The model's profile page is more like a resume of that particular model. On the model's profile, you will find a lot of personal information about the model, like date of birth, age, nationality, hair color, dream profession, etc.
You will also find arousing information, like the story of her first sexual intercourse, love poems, fetishes, and turn-ons.
The model's followers and awards are also put on display on the profile page. There is a gallery on the page, but most of the photos and clips there require tokens to get them unlocked.
You can put on live notifications, and pin the model to your home page. There is a fan booster, that takes the model to the top of the general homepage, for 60 seconds. This feature is only available for premium users.
Bongacams Chat features
An identifier of Bongacams, is the abundance of different interactive chat features, to keep the viewers interested.
There are different chat modes, and on-chat features, to keep your interest, and deliver the best live cam experience. Some of these modes include;
Different membership subscriptions
There are eight different membership programs on Bongacams. The free mode is on registration. While on this mode, you get ten free tokens upon registration, HD shows, and access to the models' free videos and photos on their profile.
The next membership program is the premium subscription. Also called Gold membership. Unlike other webcams, where you need to make monthly payments, Bongacams premium subscription is activated once you purchase any number of tokens.
With the gold subscription, you get numerous extra features like, spy chat, follow option for models, and colored messages. You also get a purchase limit of 10,000 €
The rest of the membership levels are reached when you get to particular purchase levels. For example, the highest membership level is exclusive. It is attained after purchasing tokes worth 15,000€.
On the exclusive subscription, you get all the available chat features, and you won't get a purchase limit.
Spy mode
This is a feature I have only seen on this webcam. If you are a voyeur, and you enjoy watching other people's private sex conversations, then this is for you.
For just 15 tokens per minute, you get to watch other people's private chats, and read their conversations with models.
Some might find this a privacy invasion, while others derive ecstasy from this.
Private chat
The private chat is a one-on-one chat with a model. You click on the 'private chat' button on the model's profile, and get forwarded to this page.
The model will set their token price, but the default price for this is 60 tokens per minute.
In the private mode, you can make use of the two-way cam feature, and have face-to-face chats. It is just you and the model, and no other members.
However, viewers on the spy mode can gain access to your conversation, so be mindful of what you say. If you are not a fan of spy invasions, then you can check out the full private chat.
Full private chat
The full private show is exactly like the private show, but it keeps the Voyeurs out. However, it is more expensive than the private show, as it goes for 90 tokens per minute.
You just select on 'full private chat', and join the chat. You can leave the chat, and you also get automatically ejected when you run out of tokens.
Group chat
The group chat allows multiple viewers in a model's private room. You can join an already active group chat, by just clicking on 'join group chat'. The model sets a target token amount, and when it is reached, the show starts.
The default token price is 30 tokens per minute, and you can leave the show by clicking on 'stop show'.
Streaming Quality
It's either HD or HD+ on Bongacams. The camera resolutions are very high on this live cam website. The models also have good lightings, for realistic shows.
The live chat also has amazing attributes, like reactions, emojis and tipping. The streaming service is very interactive and colorful.
There are options for two-way cams, but only for private chats and group chats, so you will need a webcam for this. However, the mobile site doesn't require an external webcam.
You can get connected to the model's social media platform, but you will need tokens for that. You can change the output resolution, to save data. The highest and lowest resolutions are 1280p and 240p respectively.
Pricing
The price for a token, is 0.4-0.095 €. However, every package comes with a different rate. Also, every chat mode has its separate price rate. For example
Group chat- 30 tokens/minute
Private chat- 60 tokens/minute
Full private chat- 90 tokens/minute
Voyeur or spy chat- 15 tokens/minute
Token rates
1 token for 0.04-0.095€
26 tokens for 1.99€ (rate of 0.08€/token)
76 tokens for 4.99€ (rate of 0.07€/token)
156 tokens for 9.99€ (rate of 0.06€/token)
462 tokens for 24.99€ (rate of 0.05/token)
984 tokens for 49.99€ (rate of 0.05/token)
1260 tokens for 65.00€ (rate of 0.05/token)
Payment options
There are many platforms with which you can use to make payments on Bongacams. They include;
Credit card (Visa, Mastercard, Delta, etc.)
PayPal
Bitcoin
Ethereum
USDC
Dodge coin
BNB coin
The payment process is very fast and straightforward. You just have to input how much you wish to spend, and the number of tokens worth that currency will come up.
Payment details are only used during purchases, they are not needed during registration.
Bongacams Mobile Site
Not every webcam offers mobile replica websites, and that is a plus from Bongacams. The mobile site is the same as the desktop site and does not have any deductions.
On the desktop site, you get previews of the models shown before you click on it. What of the mobile site? You also get the same previews. You just swipe to the left, and you get to see what is going on the live show, without joining the show.
The two-way shows can also be viewed here, and you won't require any form of external webcam.
Bongacams mobile site is easy to use, and although it limits you to a small resolution, it ensures privacy during the shows.
So, for those who prefer swiping to clicking, check the mobile site out.
Bongacams Verdict
Bongacams is clearly on of the best in its field. It is an early bloomer, in just a decade, it has covered so much ground in the industry.
It has shows and modes for viewers of different kinks and modes, including voyeurs. The camera resolution is very high, all of the models using HD and HD+ cams.
There are a lot of features and chat interactive perks, like chat reactions and emojis. Finding models is very easy, as there are guides, and even alphabetical arrangements.
The premium mode doesn't require monthly payments, and there are several other membership programs.
The interface is very smooth, and easy to understand, but it is outdated. The models are very sexy and they expose their bodies.
Bongacams is a very interesting site., so I will give it a 7/10
Frequently Asked Questions
Is Bongacams safe?
Yes, Bongacams is very safe. You are not asked personal questions upon registration. All you require is a username and a password.
Email addresses are not necessary unless you don't think you will remember your password. Financial details are not required, only during purchasing. 
Since I have used this platform, I haven't heard of any cases of security breaches. It is well-encrypted and keeps the jailbreakers out.
Is Bongacams a scam?
No, Bongacams is not a scam. It is a well-recognized webcam site, and has a reputation.
Transactions are safe and credible. You will get exactly what you order. The models are real, and not automated bots, and artificial intelligence.
For the voyeurs, you get to spy on the real model and client chats, not made-up conversations. The comments on the models' pages are also real, and most of the models are popular.
With tokens, you can get the models' real social media platforms, like Snapchat, Twitter, and Instagram.
How to go live on Bongacams
After registration, you will select on the floater head of whichever model you want to see perform. You can choose from the different chat modes available.
You can have face-to-face chats on private chats, with webcams, and microphones. However, mobile sites don't require external webcams.
Can I use Cam4 for free?
Yes. The free mode is very versatile. You will still get amazing features like group shows, regular shows, and access to the model's profile and gallery.
You can watch performances for free, but without tips, you won't be able to make any actions. For the premium modes like, group chats, private and full private chats, you will make token payments to take part in them.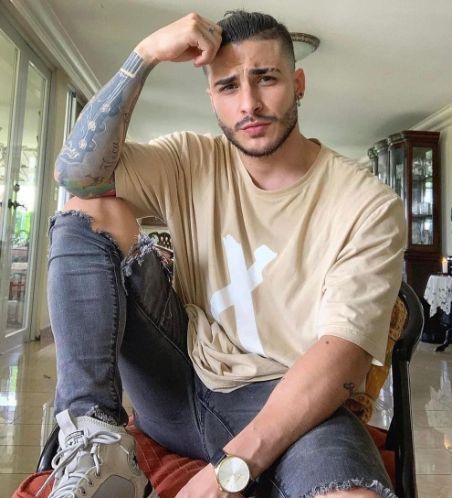 Brian Heimann is a seasoned cam model and expert in the adult entertainment industry. He has worked with top cam sites and knows what to look for when reviewing them.