| | |
| --- | --- |
| Site | www.cam4.com |
| Languages | English, German, Italian, Portuguese, Spanish, French, and 38 other languages |
| Payment options | Credit card and PayPal |
| Pricing | $9.95 for 50 Tokens |
Pros
Many available languages
Variety of models
Friendly interface
Cons
Limited HD cam shows
Payment options vary by region
Stubborn ads for the basic users
In this day and age, Cam4 can be considered one of the significant groundbreakers in the sex webcam industry. Cam4 is an interactive online webchat platform for adult men and women. With a lot of fantastic models and activities, you can enjoy the naughtiest models live for free.
The site operates on a "freemium" model; you don't have to pay to see nude models, but the biggest perks do require payment.
It has various languages, thereby breaking the usual communication barrier between models and viewers.
It offers a very smooth interface and is easy to use. If you don't have an account on the site, you are really missing out on its perks.
Signing up at Cam4
Cam4 offers a very simple and secure registration process. All that is required is a valid email, a username, and an authentic password. After you fill in the signup page's fields, a validation mail will be sent to your email to confirm the process.
We'd recommend using a casual email address and a non-identifying username to maintain your anonymity. To be clear, there is no such thing as a 'registration fee,' so be mindful of fraudulent domains.
Payment details are not required during registration. You will only be asked for this when you choose to buy tokens or make other payments. There is a premium account called Gold Cam4 for those who prefer royal treatment.
Models
Black, white, or Asian, no matter the race or ethnicity, you can find every kind of model you want to see perform. Cam4 has a lot of models of every single gender. Plus, you can sort by hashtags like #pussy, #shaved, and #feet. This makes it easy to find your kink.
Most models on the site are active regularly, ready to give you sexy and exhilarating shows. Their webcams are easy to join and are relatively cheap.
In terms of languages, Cam4 really leads the industry, with as many as 44 languages available. You can even find web shows in Urdu, Tamil, and Thai, which few if any other sites offer.
There are four categories of models on Cam4: Girls, Guys, Couples, and Trans.
Girls
Female models are the life of every webcam hub, and Cam4 got it right there. On Cam4, you can find numerous different kinds of women. Busty, redheads, petites, and stallions are just a few of the subcategories.
Most female models are in their early twenties to late thirties. But if you are a fan of older ladies, there are some fantastic MILFs to entice you.
Under the female category, gays, bisexuals, and other sexual minorities are not left out. They are also available to give interested viewers sexy live shows.
Guys
It is common for men to be excluded from the webcam-model lineup. Cam4 chose instead to embrace the idea and added many male models on their web show offerings.
No matter the ethnicity or race, you will find male models ready to give you the best sex shows available. So, ladies, if you seek the hottest boys that want to arouse you with their sexual display, you need to see this.
And for the gay dudes, models like you are on the page and are ready to turn you on.
Whether you're into slim, skinny, athletic, or chubby guys, Cam4 has you covered.
Couples
Aside from the solo performances, you can also find couple shows to enjoy. There are straight couples, gay couples, and group-sex channels. Even if you're into obscure bondage or fetishes, you're likely to find couples that satisfy your urges.
You can text them whatever dirty activities you'd like to see them show off, but most requests will require tips.
Trans
The trannies are not left out of the fun. There are many transexual models on Cam4, and they are as active as every other category.
The trans models dress really beautifully, and whether they've had surgeries or not, they're all happy to show off their beautiful bodies.
There are many trans models of various ethnicities, races, and sizes. Thick chicks and dominant she-males are some of the most popular sections under this category.
Model's profile
Cam4 limits the amount of info that shows up on model profiles. The info page is attached to the live show, and is not a different section on its own.
In the profile bar, you will find information like age, nationality, sexual orientation, body decorations and other details, to give you a little insight of the model.
You will also see a set of live-show dos and don'ts for that particular performer. They are called "Room Rules." These are the model's likes and dislikes, and the acceptable behaviors during the shows. One model may enjoy pet names and degrading language while the next can't stand it. The hosts are humans with their own emotions, so be sensitive to their desires.
There is a picture and video gallery on the model's page for aesthetic purposes. A few of the pictures are free, while the rest require token payments.
A trophy cabinet, for the model's awards and achievements, is also shown on the profile page.
Cam4 Chat features
Cam4 won the XBIZ award for adult cam site of the year back in 2014 because of the numerous interactive features that let you explore during the webcam sessions.
Some of them are designed to keep users' interest, while others act as incentives for the models. They include:
Basic Mode
The basic mode is the free user membership. You don't need to pay anything to chat this way, but additional benefits usually cost tokens.
While on this membership program, users can watch full live cams, send and receive messages from the models, and view the model's page.
You also get access to the Swag store and the Cam4 radio. The basic mode has quite a few interactive activities but it's tempered by the excessive popup ads.
Gold Cam4
Gold Cam4 is the site's premium subscription. You get exclusive features, and models flock to the Gold subscribers.
For just $19.99 per month, you can enjoy your web shows without ads, send private messages, and get tokens at exclusive prices. You will also use some interesting upgrades during public chats like automatic translators and hidden user names.
Cam4 will give you that real VIP experience when you pay for this special premium status. You get monthly gifts that you can then give to your favorite models.
Regular shows
The regular shows are the most common type of shows on the site. Just click on the model's display picture to join the ongoing show.
While on the regular show, you can send messages and make requests, though most models only take requests that come with tips.
Group shows
The group show is a ticket-based show. During regular shows, the performer sets a particular tip goal. Once viewers contribute enough to reach the target, those who purchased tickets are taken to a private chat room.
Models give their best performances in group shows, so be ready for exhilarating sexy stuff.
Private shows
The private show is the most sought after, because of the one-on-one experience with the model. However, you get charged per minute while you watch.
It is completely private, so you are alone with the broadcaster. No other viewers are allowed in this chat mode.
The private show is exclusive to premium subscribers only.
Cam4 Radio
The Cam4 radio is a whole different feature exclusive to this site. This is a collection of different erotic podcasts and recordings that are sure to turn you on.
Some of them are sexual sounds, while others are kinky stories that you're sure to love. You can listen to these podcasts on Apple Music or Spotify.
Shop Swag
Yes, Cam4 has their own merchandise shop. You can find hilarious parody shirts, mugs, hoodies, and other collectables.
You can also find amazing sex toys and BDSM accessories. Buy merch using real money or the rewards you get from joining the Cam4 reward program.
Cam4 rewards
These are achievements and honors that models receive for their amazing performances. Viewers vote on each category, and at the end of the month, the winners are publicly announced on the platform.
Models get cash when they win, and their awards are displayed on their profile pages.
Streaming Quality
Not all the models use HD cams, but most are fairly good. Webcam performers know their viewers want to see a detailed video. However, there are still quite a few models with less-than-optimal lighting setups.
Camera standards and qualities vary from model to model, but it all depends on their connection status. Part of your search for the best models is figuring out who streams high-quality video.
Private shows allow viewers to switch on their own webcams for better interaction. You may also be allowed to turn on your microphone, depending on the model.
If you have VR goggles, you can also make use of those. Find VR shows, and live the fully immersive experience. These shows offer very high-quality displays.
During shows, you can see the model's likes, kinks, and fetishes, so you can relate with them based on those. There are also reactions and emojis, to make your chat experience a little dirtier.
Pricing
The baseline pricing for Cam4 tokens comes out to about $0.20 each. However, the smallest quantity for purchase is 50 tokens, totaling $9.95.
A premium subscription costs $19.99 per month. When you purchase a premium membership, also receive 100 free tokens.
All but the smallest token packages come with 50 bonus tokens — a very good incentive program for users. You can use these tokens to view private shows, buy tickets for group shows, and tip the models.
Token rates
50 tokens for $9.95
100 tokens + 50 bonus tokens for $18.99
250 tokens + 50 bonus tokens for $44.95
500 tokens + 50 bonus tokens for $84.95
1000 tokens + 50 bonus tokens for $159.99
Payment options
There are basically two open payment options on Cam4: credit cards (Visa and Mastercard) or PayPal. However, the payment options vary by geographic location. Some locations may pay using Bitcoin and other digital currencies.
The payment options are used to purchase tokens and open premium subscriptions. The Swag shop does not operate on the same Cam4 payment model.
Payment is fast and simple. You will need your payment details to complete this process.
Cam4 Mobile Site
Like most webcam hubs, Cam4 has a mobile platform for easy accessibility and use. There is no difference between the desktop site and the mobile site in terms of features, but the visual appearance is rearranged a bit to fit a smaller screen.
The Cam4 mobile site functions smoothly, and has a very good interface. It allows you to watch private sex shows at your convenience anywhere you go.
For those who prefer scrolling to type, this is a plus for you. And the two-way cam shows are easy to set up since you don't need an external webcam. You can use the one built into the phone.
Cam4 Verdict
Cam4 is a very interesting and colorful webcam site with a lot of interactive shows and features to engage in.
Compared to similar options, it is one of the best, with amazing amateur models, and smooth interfaces for both the desktop site and the mobile site.
The freemium program gives basic users quite a bit of flexibility. It also has its own merch shop with very affordable products.
Not all of the models shoot their live shows in HD, but on average, the output quality is excellent. Models are always active, and ready to get kinky with you.
The site is very easy to use, and that is why it has maintained its place among the best webcam sites out there. All in all, we'll give Cam4 a 7.5/10
Frequently Asked Questions
Is Cam4 safe?
Yes, this webcam is very safe. You are not required to divulge personal information at signup. Payment details are only requested when you make purchases.
Upon registration, you need only provide an email address and a username of your choice. We suggest you use a casual and unrecognizable username and email address.
When you purchase a premium subscription, you can hide your username. The site is strongly encrypted with SSL technology, and the site's clean history shows they guard well against hacks.
Is Cam4 a scam?
No, Cam4 is not a scam. It is a credible and trustworthy site. You will receive the tokens or merchandise that you purchase. There is no fee for registration, so if you're asked for payment right after creating a username, you may have ended up on a pirated clone.
The reviews on models' pages are made by real users, not automated bots. The models are also very real, and some of them are popular social media models as well.
If you have any complications during the web shows, Cam4 has active customer service to receive your complaints.
How to go live on Cam4?
After registration, you will see different models on the homepage, to choose from. To join a regular show, you just click on the model display header and join the show.
On the top of the page, you will see hashtags and filters to help you find what you really want. There is also an "explore" button that lets you select other features and show types.
Can I use Cam4 for free?
Yes. The free mode is very versatile. You will still get amazing features like group shows, regular shows, chat permissions, and access to the model's profile and gallery.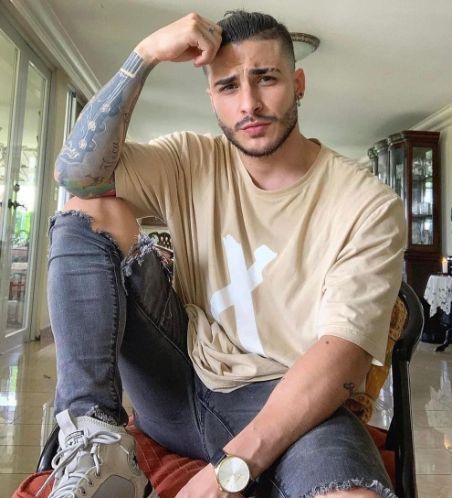 Brian Heimann is a seasoned cam model and expert in the adult entertainment industry. He has worked with top cam sites and knows what to look for when reviewing them.