| | |
| --- | --- |
| Site | streamate.com |
| Languages | English |
| Payment Options | Visa, MasterCard, Discover, PayPal |
| Pricing | $1 per 1 GOLD |
Pros:
Over 2000 sexy models online
Variety of live models from around the world
It's easy to open an account and make payments
Clean and modern user interface
Free shows and discount shows are available
Convenient payment methods
Plenty of HD cam options
Cons:
Poor support on iPad and iPhone
No community chat function
Introduction
One of the most popular cam sites to emerge in the past few years is Streamate. Streamate has become one of the web's top cam sites, and it outperforms the competition in terms of hot models, convenient payment methods, an intuitive interface, and superior video quality.
Let's take a look at how you can get started with the sexiest girls on your screen..
Signing Up at Streamate
It's easy to open an account on Streamate and start viewing the hottest models and performers. This international cam website is designed for intuitive use and quality viewing that is easy for beginners to jump into. You can follow the guide below to open a free account and start watching.
Open the Streamate website
Click the Free Account button at the top-right corner of screen
Input your email, nickname, and password
Select your payment method
Choose from the extensive selection of models
Start streaming a quality show right away
The Streamate cam site requires your email address at signup. They may send special offers but will not display your email to performers other users. You maintain that privacy while you feast your eyes on gorgeous bodies.
Once you sign into your account, all you have to do is select an attractive model and start watching. You cannot view the cam feeds or make payments until you open an account.
Introduction to the Models
One of the highlights of using Streamate is that you'll never run out of sexy models to watch. Streamate features over two thousand models, and there are over 200 models online at any given moment. This means that no matter what you're into, your perfect type of woman is online ready to take her clothes off and satisfy your kinks. And there's lots of variety in performers:
Girls
The site divides its models into Girls and Guys categories. There's no question that most viewers on Streamate are looking for sexy girls to watch and command.
When you click the Girls tab, you can then select subcategories like Big Tits, Lesbian, Red Head, etc. From there you can further filter by specific region, fetish, age range, etc. Want a mature woman from eastern Europe who specializes in deepthroating? No problem! Select as many or as few filters as you like.
You can browse through all the girls' cams or look out for new models and GOLD shows. And if you're not sure exactly what you want, Streamate will also show you what kind of content is trending. The girls are diverse and sexy, from various countries, sexual orientations, and age groups. This means lesbian viewers can find fun here too — Streamate isn't just for men.
Guys
If you prefer to watch guys instead, Streamate has an impressive selection of male models to choose from. Simply click on Guys, and you can watch them all and decide which big cock to invite to an exclusive chat.
The Guys section in Streamate is designed the same as the Girls section, except the categories are different. You can expect different models that match your taste, whether you want to call them Daddy, spank them in BDSM gear, or just relax with something more vanilla. Have a look at the Bears, Latinos, Muscle men, and more.
Couples
Streamate allows you to watch couples enjoying each other on camera if that's what you're into. This allows you to watch kinky live porn as it happens, and to direct them the way you want. There is no broad category for couples; instead, you hit either the Guys or Girls tab and look for Couples or Group Sex in the subcategories.
All types of couples are available, including straight, gay or lesbian. You might also come across threesomes, which is a gem. There aren't as many couple cams as individual ones, but Streamate always has enough options.
Trans
If you're looking for trans models, Streamate has covered you. As with Couples, there is no broad category for trans content. Instead, you'll have to check for Transgirl under the Girls category. There is no separate category for Transguy.
The Transgirls menu includes girls who have received bottom surgery and those who have not. Unfortunately, Streamate doesn't let you filter by that distinction. Either way, you're sure to find a trans woman who will press your buttons for a few GOLD coins.
Model's Profile
Streamate makes it easy to view models' profiles and learn more about them. The easiest way to find a profile is to click on a live show and scroll down. Right under the cam feed will be the model's profile link.
The profile page lists the performer's age, location, and a quick bio. You can add the model to your favorites in order to find them later on or send private messages, view notifications, and write a review.
The top right corner of the profile lists the times when that model is usually online. Streamate keeps track of performers' screen time to help viewers choose.
Some models have additional photo sets and videos in their profiles that you can buy and watch whenever you want. So, even if you don't have time while they're online, you can still get pleasure from watching their homemade porn.
Streamate Chat Features
One of the best parts of using Streamate is that you can chat with the models during their show. Once you click on a live show, you will be taken to their camera view. The chat box is on the right side. The whole interface is intuitive, so it's easy to jump right in.
Above the chat box, you can view the model's name, country, age, and rating. Right under that is the type of show, whether normal or GOLD. Some models also include a description of their show, telling you what they will be doing or how much you should pay to see certain content.
The Chatbox
Right below the model information is the chatbox. You can see the messages sent by viewers and performer alike. The chat box also shows how much other viewers have paid. You are not allowed to share your contact information with the performers through the live show chat. It also shows you how many people are watching at a time.
When chatting, you can include emojis, hide your chat from other viewers, use bigger or smaller fonts, and view saved messages.
Spin the Wheel
Some shows include a spin-the-wheel mechanic. When you click on the wheel, it will land on one of the sexy or entertaining options the model has input. Each option has a price associated with it, so you'll be charged the attendant amount of Streamate GOLD while you watch your performer do that dirty deed. It's an exciting chat feature that makes the show more engaging.
Settings for Paying
Depending on the show you are watching, you may see a GOLD menu or space to reserve a spot on their GOLD show. Certain shows give you the option to click on Private Show or GOLD Show, so you can decide where you want to take action.
If the model is accepting tips, you will see the tip menu instead. The features that you see in a live show depending on the settings and features that the performer wants and on the style of show.
General Settings
Right under the performer's window is an option to go full-screen, but this hides the chat feature. You can also adjust volume and video quality or report a problem. If you enjoy the model you are watching, you have a quick link to view similar models.
Streamate Streaming Quality
When choosing a top-notch cam site, your first order of business is to determine whether you'll enjoy the streaming quality and experience. Luckily, most Streamate models film at HD quality. This means you can see and hear every detail of each model's show, from her perky tits to her sexy moans. Both public and private shows have the same video quality — you don't have to pay for high definition.
The site also provides users with top streaming quality, so buffering is kept to a minimum. The last thing you'd want is to pay for a public show that glitches out. Ultimately, though, the quality of each model's show on Streamate depends on the camera they are using.
Most Streamate models are professionals who understand the importance of using good cameras. Quality equipment attracts more views, after all. This is why plenty of HD cam shows are available on Streamate.
Your connection also has an impact. To enjoy the best Streamate cam show quality, make sure you are connected to high-speed internet.
Pricing
Streamate offers free streaming in general showrooms, but you benefit from more features when you pay. To pay for a show you must buy GOLD. One GOLD is equivalent to a dollar, so there's no need to do mental conversions like with other cam sites. Private cam shows run for between $0.99 and $8.99 per minute. Prices are based on the models' popularity, quality, and experience.
Another option that requires payment is the exclusive cam chat. In this case, you will be alone with the model. The rates range from $4.95 to $44.95 per minute.
GOLD also gives you access to GOLD cam shows, the highest-quality shows they offer. While streaming, the models will try to reach a goal. Once they reach it, the GOLD is released to them as payment.
Payment Methods
Once you open an account at Streamate, you can pay with:
Visa
MasterCard
Discover
PayPal
Depending on your card, you may need to pay a verification fee of $2 before entering private or gold shows. EU members may be charged a value-added tax for any payment method. Also, Streamate users who use PayPal will incur a service charge.
Streamate Mobile Site
Streamate has a mobile-friendly website that gives you access to all the same shows while on the go. You don't lose any of the video quality or the features whether you're on a computer or mobile device.
The quality of the videos is still top-notch, and Streamate mobile is easy to navigate. You'll find drop-down menus for Girls or Guys cams, and it will show you all the same subcategories. There are also different trending filters above the shows. Simply scroll down, and you can view different kinds of models.
Atop the mobile site is a prompt to open a free account, log in, or search for specific content. The Streamate live shows on mobile are also designed for intuitive use and quality streaming. You'll have no trouble transitioning from desktop to mobile or vice-versa.
On the whole, though, we find the Streamate desktop site to be more convenient.
Streamate Verdict
Streamate offers quality cam services for anyone, regardless of what type of porn you're into or the type of girls and guys you like. The website has gained popularity for many reasons, including its thousands of sexy models, diversity in terms of their country, language, age, sexual orientation, etc., and its intuitive settings.
You don't need to be a genius to operate Streamate, as the site is easy to use right from the homepage. Simply click on the model you want and you'll see the many available chat features. The hardest part may be choosing just one model to watch at a time, but Streamate's categories and filters will help you.
Sign up and start using Streamate for free.
FAQ
Is Streamate Safe?
Streamate is safe to use. The website protects your personal and banking information with SSL encryption. Also, only their trained and authorized staff are given access to your information. Performers don't see any of it, and you can protect yourself further by not giving out personal details in chat. If a model or staff requests your data, report them to Streamate immediately.
Is Streamate a Scam?
Streamate is not a scam but a legitimate cam website that you can enjoy stress-free. The website is safe to use, protected, and licensed. Before signing up, you should check the terms and conditions, privacy policy, and their seals at the bottom of the page. You will also see a DMCA Notice on Streamate.
How to Go Live on Streamate?
If you're a model, you simply need to create an account, log in to Streamate, and click the button that says Start Streaming. Then, you will verify that you have read the terms and conditions and agree to the policies. After that, you will take a live picture of yourself to verify that you are the account holder.
Can I Use Streamate for Free?
Yes, you can access content on Streamate for free, but the downside is that you won't get any personalized content. Streamate allows you to see their models by creating a free account, but paying gives you access to private shows and chats with the performers.
What is GOLD on Streamate?
GOLD is a site currency used on Streamate. One GOLD is equal to one US dollar. You can purchase GOLD and use it to tip models or pay for certain shows and other content.
Do I Need to Verify My Account on Streamate?
After verifying your email address, you might need to do further verification on Streamate. Your bank may ask for more verification. You should be able to do it quickly on Streamate and go back to having fun.
Meta Description: Looking for the hottest cam girls on Streamate? We've got you covered! Read our detailed review on how to sign up and start streaming.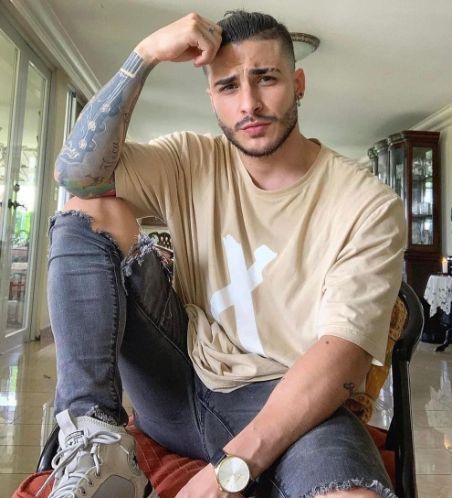 Brian Heimann is a seasoned cam model and expert in the adult entertainment industry. He has worked with top cam sites and knows what to look for when reviewing them.