| | |
| --- | --- |
| Site domain | www.livehdcams.com |
| Languages | English, French, Italian, Spanish, Russian, and 16 other languages |
| Payment options | Credit/Debit cards, Local cash vouchers, PayPal, Astropay, Skrill, Cryptocurrency |
| Pricing | $0.11 per Token |
PROS
No language barrier, as there are many applicable languages
Many payment options
Exotic and sexy models
Many categories
Smooth and colourful homepage interface
CONS
Clone website
Poor resolution
Not 100% trustworthy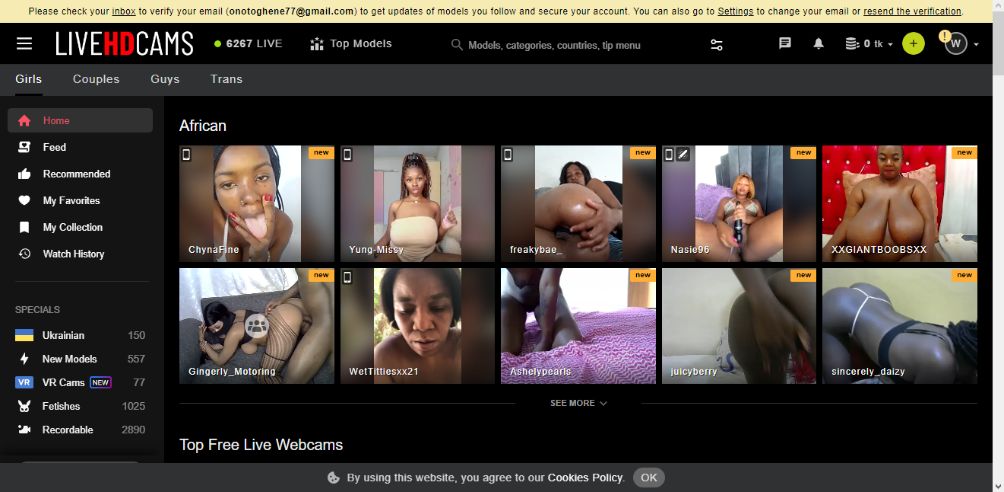 Livehdcams is a controversial webcam site, but we would talk about that aspect later in this review. But generally, it is a really interesting webcam site.
With the sexiest models, ready to go butt naked for you, Livehdcams offers hot live sex shows for their subscribers. So if you want to know the basis and basics of this webcam site, read further and you will find one, two, three, or all the important stuff you need to know.
Signing up at Livehdcams
The registration process is very simple, and unlike most live sex webcams, Livehdcams offers two registration methods.
Traditionally, you can use an email address to create an account on this webcam page. All you need is to select a username and an existing email address.
On the other hand, you can also create an email account that would be linked to your Twitter account if you have one. You simply have to click on that button, and put in your Twitter account details.
However, the second option is not the safest, as tracking becomes possible at that point in time. It is also best to use an unidentifiable email account, to maintain anonymity.
Models (Intro)
Adult models are the roots of live sex webcams. Livehdcams features a wide range of models, of all gender and sexualities. Whether you are into gays, heterosexuals, or even pansexuals and trans, you can find them all on this webcam.
The models are horny and are ready to get any done to get you hard. You just have to get a few bucks ready, for instances where you might have to pay.
On Livehdcams, there are four sections of models; Girls, Guys, Couples, and Trans
Girls
Girl and female models are the most featured on all webcams. Livehdcams has almost an unlimited number of female models, from different backgrounds and ethnicities.
They come in various sizes and shapes; small, busty, petite, huge, and many more. Livehdcams models are the actualization of those fantasies in your head, as they are very pretty and attractive. There are different categories to pick from, and there are also lesbian girls, for the ladies that love coochie.
The female model section is really interesting, and they are the most active on the live webcam.
Guys
Most live webcams are seen as lacking in this section, but Livehdcams didn't miss. From the chubby dudes to the athletes, you can find all modifications and shapes of male models on this webcam.
Just like the female section, they are from different backgrounds and races, but they all have one thing in common- they are horny and know how to put on a show.
Gay guys can also be found on the live webcam, although they are few.
Couples
The more, the sexier. Couples that love to showcase their kinky nature can be seen on this webcam stream. They go to all extents and give you all fuck styles you never knew existed.
So, if you are a voyeur, or you and your partner love watching others bang, check this section out. There are different couples based on sexualities. Gays, lesbians, straights, and multiple-way gang bangs.
Regardless of what you want to see, you will surely find it on this webcam. From BDSM plays, to soft tender touches- welcome to the Livehdcams section.
Trans
If you are transsexual and think you will not find streams for your liking, then think again. Livehdcams houses the sexiest transgender models you might find in the industry.
So, the next time you want to see your fellow trany live or have a fetish on it, the site domain is in the domain at the top.
Model's profile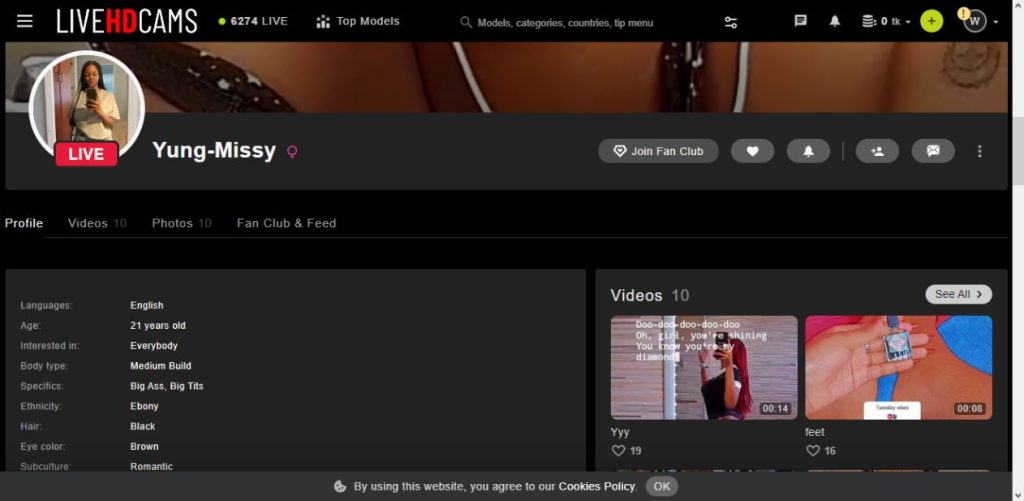 The model's profile is more of a run-through about a particular model. You will find basic information like their hair color, eye color, body type, age, and other questions that don't go too personal.
What is a sex CV without the sex in it? You will also find their sexual preferences, likes, and sexual interests. There are room rules, that is the dos and don'ts when in a chatroom.
Some models have fundraisers for certain purposes. You can donate tokens to reach these particular goals. There are photo and video galleries, but you will need tokens to view them.
Livehdcams chat features
Live streams and sex chats are the basic activities that keep all sex webcams alive. However, different organizations add new and distinct features to spice up their domain.
There are two types of membership subscriptions in this domain. The free user mode is for literally anybody that has an account. You get basic features, but to an extent still very interactive. Some of the activities include; access to all cam shows, the ability to use search bars and filters, free pre-recorded model videos, and access to the model's profile.
For les choses meilleur, you should get a premium subscription. For just $25, you can have a 1-on-1 cam session with models, watch premium slated videos, join gold shows, and enjoy amazing discounts.
During a chat session with a model, you can send emojis and reactions, based on how turned on she gets you at that point. You can also make text requests, but that requires tokens, and have varying prices.
Some of the chat modes include;
Public sex shows
This is the sex chatroom that free and guest users only enjoy. You can view all your favorite models get downright sexy, and you won't have to pay anything. You just simply create an account and enjoy. However, you won't be allowed to perform actions and make requests.
Premium Private sex shows
The premium private shows have the most exhilarating of models ready to do anything for you. However, you will have to be a premium subscriber to access this feature. The models will perform solely based on requests, and trust me, they do amazing stuff.
Exclusive cam shows
The Exclusive cam show is a 1-on-1 live sex room with just you and your model. You will need webcams and microphones, to have a more realistic experience, but if you want to have it coded, you can just opt for the audio option only.
Gold shows
I like to call this 'higher bidder takes all show," because that is how it works. The model sets a token target during the premium private shows to have access to her gold show. The viewer who meets the target, or goes above is invited to a private 1-on-1 show.
This mode is only for premium users, and can only be accessed during premium private shows.
Awards
Some of the models get awards for how good they are at what they do. These awards are put on display on their profile page, to catch the eyes of their visitors.
Livehdcams Streaming quality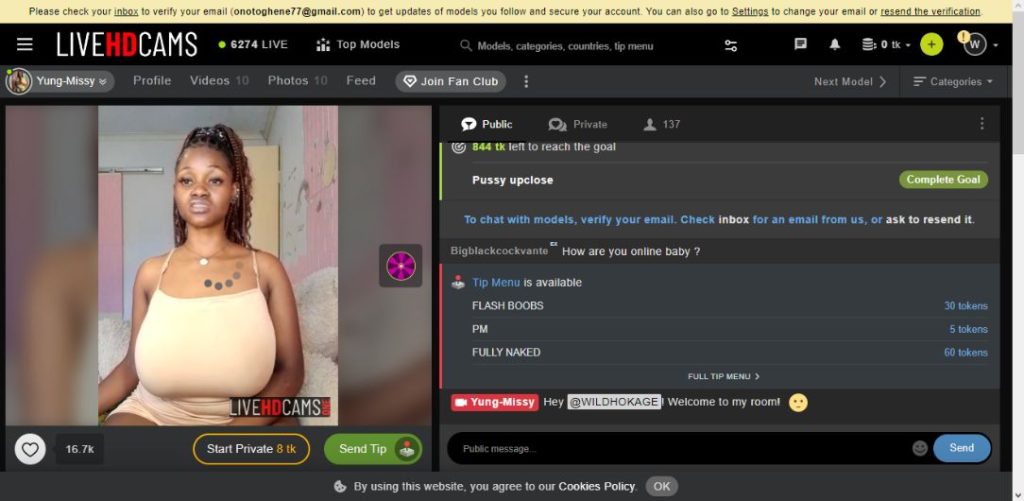 This is a point that Livehdcams missed it. Probably, it might be because it is a cloned website, and faces some restrictions, but most of the cam qualities are not so good.
You will only come across a few HD cams, and those models charge high token rates. The streams lag some of the time and take longer times to load. But this doesn't mean you won't see good cam quality streams, they do exist.
You might need an external microphone and webcam if your computer system doesn't have one. On the mobile domain, it is not necessary, as mobile phones already have does inbuilt in them.
The models are very nice, and try their best to give you the best. However, they are real people, so be mindful of how rude you get, because you can get banned. Adhere to the chat rules on their profile, and everything will be okay.
Pricing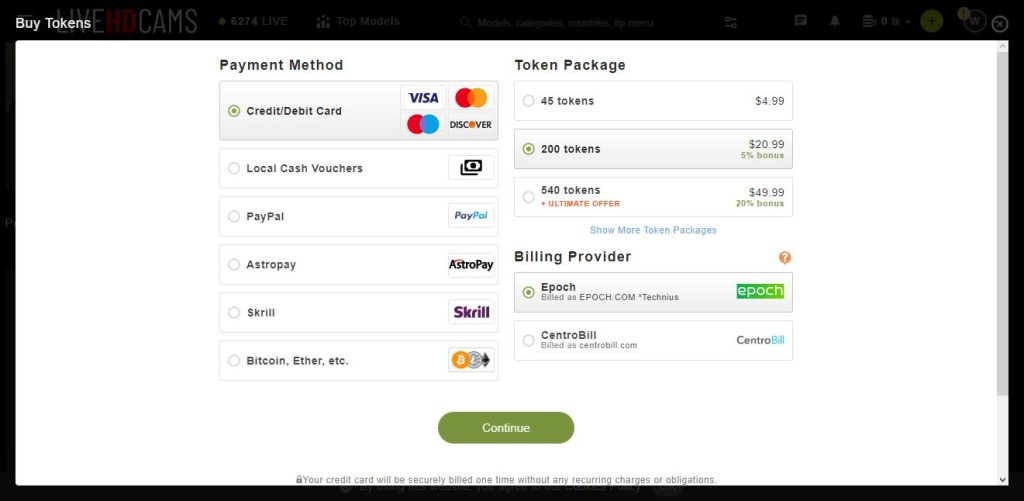 The price rates are affordable on Livehdcams. The token rate is $0.11 per token, but changes are made, as the number of tokens increases.
There is also an exclusive ultimate member package, but it is only available on credit and debit cards.
Token Rates:
● 1 token- $0.11
● 45 tokens- $4.99
● 90 tokens- $9.99
● 200 tokens- $20.99 + 5% bonus
● 540 tokens- $49.99 + 20% bonus
● 1100 tokens- $96.99 + 25% bonus
Payment options
Livehdcams made payment very smooth for its viewers. There are numerous choices to pick from, and they include;
● Visa
● Mastercard
● Discover
● Local cash vouchers
● PayPal
● Astropay
● Skrill
● Bitcoin, Litecoin, and other Cryptocurrencies.
Payment is available for all regions around the world, and the only two accessible billing providers for webcam purchases are Epoch and Centrobill.
Livehdcams Mobile site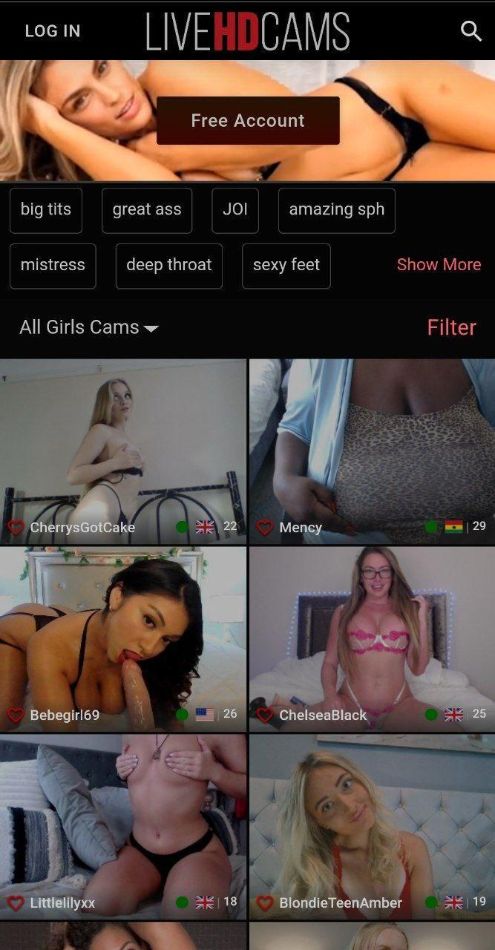 This domain doesn't have a mobile application, but like most webcams in the industry, it has a mobile site.
Livehdcams mobile site is the replica of the desktop version. It doesn't have any changes and functions just as smoothly as the desktop version.
The majority of viewers prefer larger screen live screens, but I am not one of them. I stan the smaller resolutions, as it keeps my stuff private and anonymous. It is also fun to scroll through the pages, rather than clicking.
For the 1-on-1 cam shows, you do not need external webcams and microphones. You can make use of the ones in the phone, as they function just the same way.
Livehdcams Verdict
I earlier said there are some controversies surrounding this webcam, and if you are reading this, then you have come far. The thing is that Livehdcams is a complete clone of Streamate. All the models, shows, and features are the same, and this scares a lot of viewers.
So, you should go to the mother site, if you are not comfortable. But I would say this, I have used this webcam for close to 3 years now, and I have not had any form of complications. My transactions are okay, and everything is going smoothly.
Another noticeable downside is the bad cam qualities of most of the models on the platform.
There are a lot of models on the show, and they are always ready to take you to the top of the ecstasy table. Amazing and interesting chat features are also available, but most of them are limited to premium users.
Tokens are the legal tender on this site, so if you are ready to get the best, you will have to dip your hands in your pockets. But it won't cost you so much, as the prices are affordable. There are also a lot of payment methods, so you won't have complications.
Livehdcams is really amazing, but for the clone situation, I'll give it a 5/10.
Frequently Asked Questions
Is Livehdcams safe?
Relatively, yes! Livehdcams is safe. Transactions are sure, and you get what you pay for. They don't have accounts of system breaches, and all information is kept safe and confidential.
Is Livehdcams a scam?
As long as you are not considering the fact that it is a clone site, it is 100% real. The models are real people, and some of the times, they have social media accounts. The reviews are made by other actual viewers, and they don't bluff.
If you ever have any complications, you can access the active customer care lines for help.
Can I use Livehdcams for free?
If you are not die-hard into the live streaming game, then the free mode will just be okay for you. You will have access to public chat rooms, where models still get the stuff done. You can also get into their profile pages, and view some of their videos.
However, the best subscription and viewing package is the premium.
What is the Average Height of Livehdcams Women?
Livehdcams models come in different sizes, but most of the models are between the range of 5'4 and 5'7. However, there are the little Petites and the mega stallions that are huge and thick.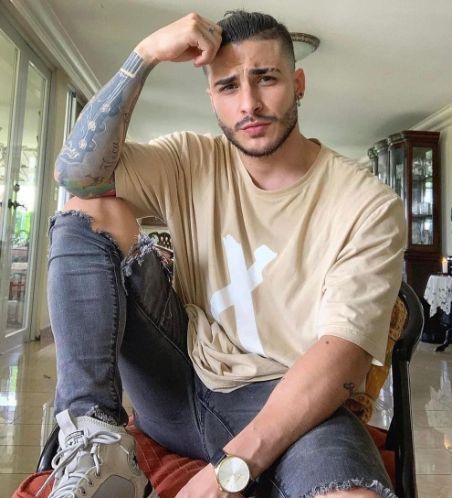 Brian Heimann is a seasoned cam model and expert in the adult entertainment industry. He has worked with top cam sites and knows what to look for when reviewing them.