| | |
| --- | --- |
| Site | https://camfuze.com/ |
| Languages | English, German, French, Spanish, and 36 more |
| Payment Options | Credit card, PayPal, Skrill, gift card, cryptocurrency |
| Pricing | $0.05 – $0.09 per Token |
Pros
Large selection of international cam girls.
Offers different kinds of fetishes and body types.
Free and simple to register.
Advanced search options when browsing sexy models.
Offers free tokens sometimes.
Cons
It is a clone or replica of BongaCams.
The interface is outdated and overwhelming.
There are annoying ads and popups.
Only a few models use HD cameras.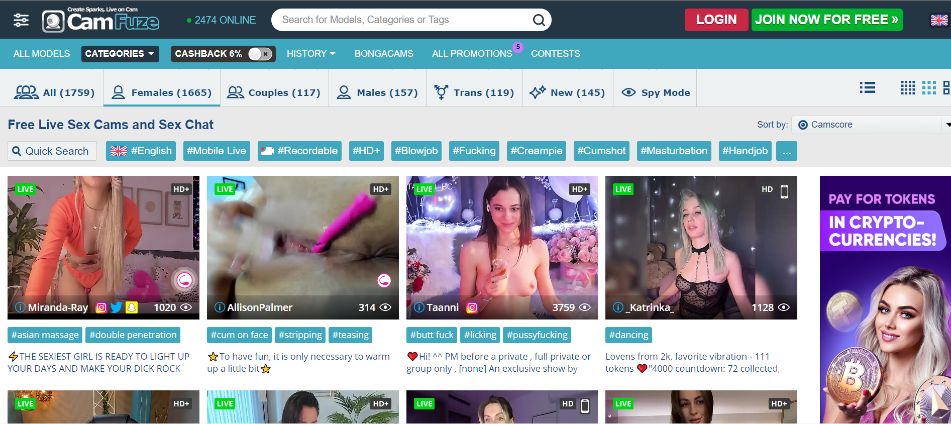 Camfuze is a cam site with a selection of international cam girls worldwide. On this cam site, you can watch sexy models masturbating for your pleasure, but there are a few things to know before signing up for free. Our Camfuze review covers what you should know about this x-rated cam website.
Signing Up At Camfuze
Camfuze allows new users to sign up for free, and you can create an account within a minute. Once your account is ready, you can get wet with all the sexy models available. Before signing up, you can use the guest ID given to you to browse the site and watch some free nasty shows without paying.
Here's how you can sign up at Camfuze:
Open the site and click on the Join Now For Free button at the top right corner.
Enter your username and password.
There is the option to add personal information, but you can skip it.
The site allows you to enter sexual information about yourself for a better experience.
Enter the nastiest fetishes you've been planning to try and create an account with Camfuze. From there, you can start having sexy video chats with naked models, waiting and eager to please you.
Models
There are about 2000 models online on Camfuze, although it might be challenging to find what you're looking for with the outdated interface. The models come from all over the world, and you can use advanced search filters to find the kind of sexual entertainment that turns you on. Keep in mind that a lot of the adult sex shows available on Camfuze are from BongoCams, which makes this a shady place to watch them.
Girls
Camfuze seems like it was primarily made for men because a lot of the nasty content is directed toward men. You'll never have a sexy collection of women ready to do something sexy and nasty for you. In the Females section on Camfuze, you get some of the nastiest content, from creampie and blowjob to cumshot and handjob.
You can search for these cam hoes based on different hashtags and categories like fetish, toys, shaved pussy, squirt, brunette, toys, Latina, and more. Whether you want a sexy Asian or a hot blonde on your screen, there's much to expect on Camfuze.
Guys
The live shows on Camfuze don't only include sexy girls. You can get down and nasty with their mature and hunky men. Whether you're looking for a large man with a big dick or a bearded man with a lot of hair, you can find him on Camfuze.
The Camfuze website features straight, gay, and bisexual men, meeting the needs of all their viewers. There are only about 100+ male models, which is a far cry from the 1000+ female models available on Camfuze.
Couples
If your type of sexual entertainment involves two people getting down and dirty for your pleasure and excitement, you will enjoy using the Couples section on Camfuze. Camfuze offers live x-rated shows of lesbians, gays, and straight couples doing the nastiest things together.
The Camfuze site is quite vivid from the thumbnails, so you can imagine what to expect from the couples show. The shows include hashtags like fetish, anal, shaved pussy, toys, squirting, blowjobs, and more.
Trans
Those who love transgender cam models can get wet and dirty with the open-minded models on Camfuze. There are about 100 trans models that are eager to bring your dirtiest fantasies to life on their live show. You can get dildo play, deep throat, ass fucking, rimming, and many other nasty shows.
Model's Profile
When you click on the model's name under their live show thumbnail on Camfuze, a new window opens which shows you their profile. The website is outdated, and the profile is not left out. But you can still get the information you need as you scroll down to check all the information. Camfuze includes details on what makes the model horny, what turns them off, and their physical appearance features.
As you scroll down, you can check recent activity, like who has spent tokens on the model and the comments from other viewers. You'll have to scroll down to the end before seeing the model's photos, giving you an idea of what to expect from their sexy bodies.
The comments on Camfuze models' profiles are not in English, so it's hard for users to get an idea of what to expect.
Camfuze Chat Features
The highlight of using a cam site is the sexy live shows, and Camfuze has those to offer. The interface is not so great, as we've established previously, and this takes points off the chat experience.
Also, there are a lot of ads that keep on popping up on Camfuze, whether you're just browsing or watching a live show. The ads are annoying, and it's hard to find the button to remove them. Even when you do, they pop up again.
Aside from this, the site drags and hangs when you use it. There are pop-ups of chat messages with the models at the sides of the screen, even if you're watching a Camfuze live show. These take away from the chat experience that is meant to be sensual and sexy.
Chatting Options
When you open a live chat with the sexy model on Camfuze, different options give you more chatting freedom and make communicating easier. You can set your video quality, video size, and volume. Keep in mind that only premium members on Camfuze can go full screen or resize the video.
There are options to customize your chat too. For instance, you can set the music to the background, play slots, or roll dice. You can send messages, emojis, stickers, and tokens when chatting. Also, begin a private chat from the general chat on Camfuze with just one button.
Different Kinds of Shows
There are various shows that you can take part in when using Camfuze. You enjoy a one-on-one session in the private show with the sexy cam model. Others can take part in the show, but they won't be allowed to chat.
Then, there is the full private chat, and no one has access to this but you. If you have some nasty fetishes that you want to keep secret, this is the ideal choice. Voyeur mode allows you to watch other people's private shows without saying anything.
The group chat allows you to participate with other viewers, but you can leave the show at any time.
As a premium member, you can get even wetter with the video chat option with models. Let the models see the effect they have on you and get a fuller experience.
Camfuze Streaming Quality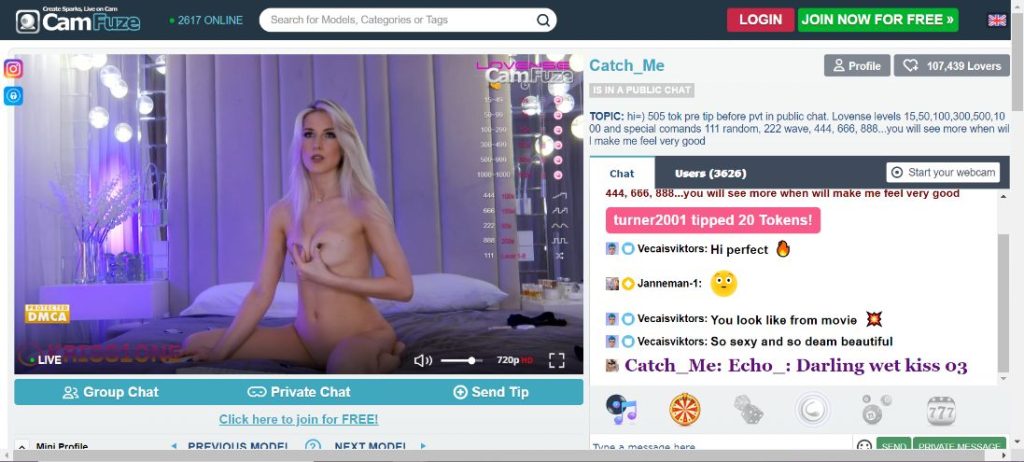 Camfuze has disappointing streaming quality, especially since you will hardly find HD shows on the cam website. On Camfuze, most of the models are from Slavic countries, and they don't have top-notch web cameras. Your internet can also affect the quality, and the website already has a poor reputation of lagging.
There are a few models that use HD cameras, but there's no way to know until you click on the show. Unless you have the time to go through multiple shows until you find a good one, Camfuze is probably not the ideal choice for you. The cam site allows you to change your screen resolution from 240p to 1080p HD. You can also resize the screen if you are a premium member.
If you have bad internet, the quality of the video won't only be bad, but it will also hang and skip. Before you send your tokens, ensure that your internet connection will allow you to enjoy the show. Also, if you're using a VPN, it's important to consider that.
Pricing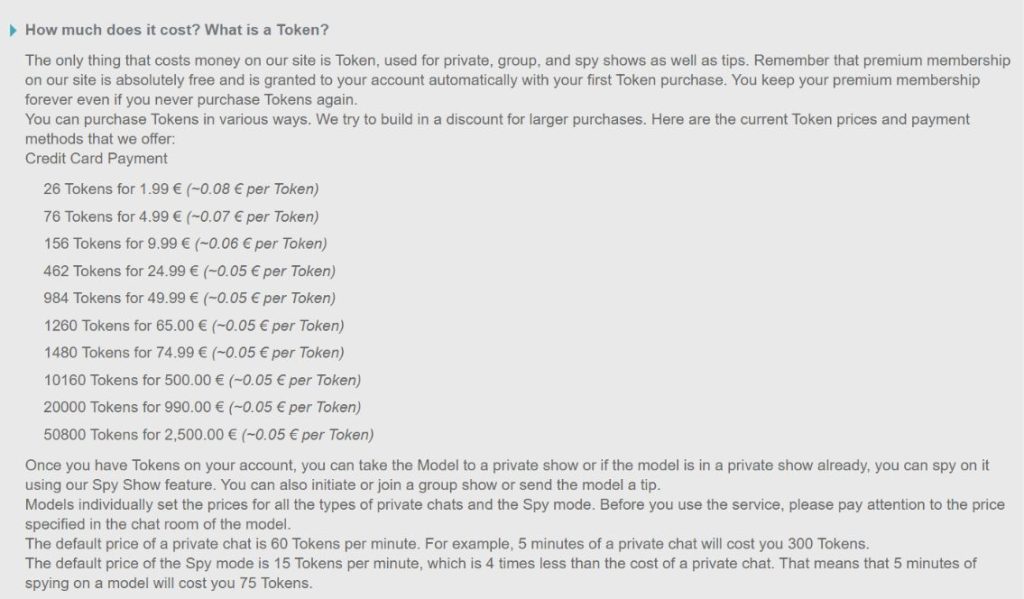 Camfuze has its on-site currency, and these are tokens. Each token costs between 0.05 and 0.09 Euros, and you can buy up to over 50,000 at a time. Once you purchase tokens for the first time, you become a premium member and can enjoy different perks.
The tokens you spend depend on the kind of show you are watching. The spy chat costs 15 tokens per minute, while the group chat goes for 30 tokens per minute. If you're going private, but you will still allow spies to watch your sexy show, you will pay 60 tokens per minute. But, if you'd prefer to have the model doing dirty things for only you, the full private show goes for 90 tokens per minute.
Aside from the fixed fees for the show, you should be prepared to spend extra when interacting with the models. You can send tips or tokens for their Lovesense.
Payment Method
There are convenient payment methods available to users on Camfuze. You can make payments with any of the following:
Credit cards.
PayPal.
Skrill.
Cryptocurrency.
Gift cards.
With the wide range of banking options, it's easier to find one that works for you. You can easily connect your method to the account and buy tokens whenever you run out.
Camfuze's Mobile Site
Camfuze has a mobile-friendly site that is more convenient to use than the desktop site. The mobile site is on a smaller screen, which means that even without HD cameras, you can see the model's shows very clearly and have a sensual time.
The mobile site allows you to watch cam shows wherever you are, whether you want to sneak a peek when you're on the move or in the bathroom at school or work. The mobile site is a better option for those who want to stream some sexy videos on Camfuze.
On the mobile site, there is a hamburger menu at the left corner that gives you access to the different categories. From there, you can choose your language, categories, and more. With the other option at the right corner, you can select the type of model you want.
Camfuze Verdict
If you don't mind the fact that Camfuze is a clone website, then you can create an account and use the site. You'll have to deal with annoying ads, pop-ups, and poor video quality when you use it, but there are tons of models and sexy content for you to look out for.
On the bright side, you can bring your sexy fantasies and nasty fetishes to life with the sexy girls, guys, and trans models on the site. But this doesn't take away from the fact that it's not a legit cam site. Protect yourself by going for a reliable cam site instead.
FAQ
Is Camfuze Safe?
Camfuze is not a safe or legit site, so you should reconsider your decision to sign up. While the real site under it might be a better option, it is not recommended to sign up on a clone cam site. You should protect yourself online by using only reliable sites.
Is Camfuze a Scam?
Camfuze can be considered a scam because it cloned another website and simply changed the name. This means that the models are not all from Camfuze either. You can do better for yourself by choosing a good alternative or going for the original site, BongaCams.
How Do I Sign Up As A Performer On Camfuze?
It's better to go for a legitimate cam website if you're a performer since Camfuze cannot be trusted. If you decide to sign up on Camfuze as a model, it redirects you to BongaCams. So, you can save yourself the stress and go to BongaCams directly.
Can I Use Camfuze For Free?
It's possible to use Camfuze for free. The website allows you to watch free shows with others until it becomes a group show, private show, or a full private show. If you want to get the other features, you need to pay.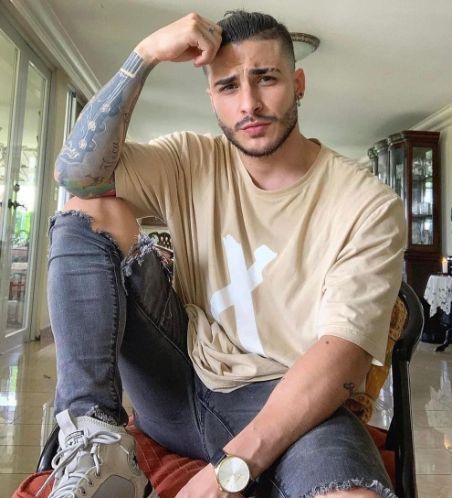 Brian Heimann is a seasoned cam model and expert in the adult entertainment industry. He has worked with top cam sites and knows what to look for when reviewing them.