| | |
| --- | --- |
| Site domain | www.flirt4free.com |
| Languages | English, Deutsch, Français, Español, Italiano, Norsk, Russian, Dutch, Portuguese, Swedish. |
| Payment options | Credit or Debit card, PayPal, Brand name gift, Crypto |
| Pricing | 9 credits for $1 |
Pros
Interactive user interface and site arrangement.
VIP membership and bonuses.
Private chats.
Bonus 120 credits for signing up.
Call feature.
Cons
Expensive services.
A lot of reviews on fraud.
Account verification problems.
Limited time and experience on the free mode.
Flirt4free is a very popular adult cam site for dating and satisfying sexual pleasures. Established in 1999, it is one of the best among its rivals. Nudity is not a big deal here; models flaunt their bodies to give users clear-sighted experiences. The interface is simple and smooth.
No matter what time of the day, or time zone you are in, models are always available. So, if you want an interactive and effortless live sex cam, the Flirt4free is for you.
Signing up at Flirt4free
To be part of the Flirt4free experience, you will have to sign up on the website. New users are credited with 120 credits that can be used in any section.
All the details you need are; an active e-mail address, a username, and a password consisting of alphanumeric characters. You will not need financial information, except during payments.
After filling out the provided form, an activation e-mail will be sent to the e-mail address you selected. Sometimes, activation can be prolonged and might take days. For the performers, the registration processes are stricter, for security reasons.
Users are advised against using personal e-mail addresses and usernames for anonymity purposes. Generally, the sign-up process is fast.
Models at Flirt4Free
MILF, BBW, Bisexual, and Blonde, no matter the category; Flirt4free has it all!
There is a massive list to pick from. No matter the size, race, preference, and ethnic affiliation, you will surely find a model at least, related to that category. Categories are well arranged in alphabetical order.
The majority of the models are women, but male and trans sections are also available. Flirt4free has one of the most interactive, beautiful, and nasty models the webcam industry has seen.
Girls
Flirt4free focused on diversity in the female section. Models of different origins; Latina, White, African, Asian, and Middle East, different sizes; small, stallions, mid and average, and of different age brackets; from the Petites to the MILFs can be found on this webcam.
The majority of the models are girls, hence most of the subscribers are straight men. There are thousands of female models, and at the moment, exactly 54 categories. A Lesbian category is also available, so homoerotic girls won't feel left out.
The female models also have a lot of awards and titles like; top model, most kinky, flirt of the year, and other awards to boost interactivity.
Guys
This webcam is not just for female homoerotic subscribers, there is also a section for the ladies who love thick and cute dudes.
The male section of Flirt4free is filled with the most attractive guys you might possibly find on a webcam. Whether your kink is the tall dudes or the cute ones, they are all available to satisfy your sexual needs. Even for girls into elderly men, there is a "Daddies" section available for them.
There is also a gay section, with a lot of hot gay models. They are thousands of male models, and exactly 50 categories to choose from.
Couples
The couple selection is not a separate section, it is a category under the three sections. Viewers get the option to watch either gay, lesbian, or straight couples do amazing things to themselves. You can even activate a cam2cam, or cam2cam audio to boost the experience.
Trans
The trannies are not left out of the fun. Unlike other webcams that don't really focus on the trans community, Flirt4free has an assorted transsexual section. There is no alteration, the viewers get the same experience as the cissexual. There are a lot of models in this section, but limited categories.
Model's profile
A model's profile is more like the model's CV. It is the data page of the model, and it is very important. It is based on profiles that most viewers judge the hosts. On a model's profile, you will find information like;
About me
Here, you'll find all sorts of personal information. Age, height, ethnicity, cup size, birthday, and other answers you ask when you are on a date, including the nasty ones.
You will see their fetishes, likes, dislikes, physical descriptions, turn-ons, and turn-offs. You will also find see personal information like height, languages spoken, and what age the model "feels like
Photos and videos
On a model's profile, you will find already posted pictures to satisfy your eyes. There are profile pictures and gallery pictures. The profile pictures are the present and past display pictures, while the gallery pictures are a kind of extra.
There are also pre-recorded videos, but they require credits.
Reviews
You can see what previous viewers feel about the live cam experience. The reviews are not fake or by automated bots. They are real experiences.
Awards and viewers voting
Viewers can vote for awards for the viewers. They are a lot of awards like certified kinky, flirt of the year, flirt of the year duo, and many more.
Tip Target
For a model to get an upgrade, they have a particular amount of credit tips. Viewers who are most active in tipping have their usernames on the model's page.
Blogs
Flirt4free has given the models a creative license. There is a blog section where models can write about how they feel and what is on their minds. Most models use the allocation as a journal, while others write sexy erotic stories.
Schedule
There is a Flirt4free calendar. On the model's profile, you will see her schedule on the calendar, and when such a model will host feature shows.
Flirt4free Chat Features
Being one of the most interactive live cam sites, Flirt4free has more than enough to offer in terms of chat and cam sessions. Multiple chat styles and contents are available for the viewers. To be sincere, this webcam might be the best in this aspect.
Some of the chat features include;
Free mode
For those who have low webcam budgets, you can still have a good sexual experience, but not the best. The free mode only offers public chats. These chats are called "open rooms."
The free mode only lasts for an unspecified short period of time for inactive users, users without valid usernames, and users that do not make purchases. However, it is restored after 24 hours of the suspension.
In the video section, they have also pre-recorded videos and sex clips for basic users. Don't expect the most exciting content though, that is reserved for the VIP users.
VIP mode
There are four memberships; Guest, Basic, Premium, and VIP, and with just $39.95 on the webcam, you can become webcam royalty.
The VIP mode offers the best experience, and it is very cheap. VIP users get 200 free videos per day, and a discount of 5% when purchasing videos.
Enhanced private messaging is a perk of the VIP mode. The performers and other viewers will know you are not just a passerby on the webcam. You can change the text color and have golden message bubbles. VIP subscribers also have special promos from time to time.
Cam2Cam chat
For more intimacy, the cam2cam chat is available for users that want to enjoy text-free sessions. Users can choose between audio-only chat or both audio and video access. You will need a webcam and it is only compatible with specific browsers.
Private Chats
Unlike the open rooms, a private chat is just you and the model. Viewers can select resolutions from WebRTC, HLS, or html5 (html5 worked best). It gives you the one-on-one sex experience.
Feature shows
The feature show is the best feature of the webcam experience. It hosts an amazing web show, with popular social media stars who can perform exclusively for you. It only costs 30 credits- a very small price for so much pleasure. The VIP subscribers get feature shows free.
Games
To boost interactivity and make fantasies real, Flirt4free offers sex simulation games. You get to create your avatar and play with other users.
Flirt Phone
Users can also call the models, but it is certainly not free. The calls are 100% secure and private.
Model and User awards
Both users and models get awards and titles. For the hosts, they are a lot of award categories like; top model, the freshest face of the year, flirt of the year, and a hall of fame for the best of the best.
As viewers continue to use the webcam, they earn badge points. The higher badge-level viewers have access to some exclusive features.
Show offers
Show offer allows users to set the pricing for the shows. You make an offer, and see if the host is in concord.
Flirt4free streaming quality
Although negative reviews about the camera quality have become a constant, over the last few years, Flirt4free has seen improvements in video output. Most models have upgraded from 576p cams to HD cams.
However, models with HD cams might charge slightly above regular prices. It is not compulsory for you to have a webcam to stream live sex shows. Webcams are only necessary during cam2cam chats.
Users are allowed to send texts and reactions during streams. You can also tip the model, or pledge a tip, to be paid later. While a session is ongoing, you will see suggestions of other models you might be interested in. Viewers can record their favorite sessions for an additional fee.
Pricing
To an extent, the pricing is a bit over the edge. Looking at the credits, some models charge about $1/minute, and some charge five times that. Averagely, the cost of a private show is about $3/minute.
Models can also be very demanding. Even after regular payments, some still ask for tips for viewers to get basic chat features. On registration, viewers are gifted 120 credits, but you will have to fill in your payment details first.
Basic Credit Rates
● 9 credits cost $1.00
● 180 credits cost $5.00 (extra 135 credits)
● 300 credits cost $20.00 (extra 120 credits)
● 1240 credits cost $100.00 (extra 340 credits)
Payment methods
The only necessary payments are credits for purchasing and membership subscriptions. The acceptable payment methods are;
Visa
Mastercard
Maestro
Delta
Discover
JCB
PayPal
Bitcoin
Gift card
The payment process is very easy and straightforward. All you need are your card details, and you get your transaction done. They have been claims of financial fraud and disappointments but on very rare occasions.
Flirt4free mobile site
Almost the whole world's population uses a mobile device. It was recently that Flirt4free developed a mobile site, for viewers who prefer mobile scrolling to keyboards.
The mobile site functions exactly like the Desktop site. During cam2cam chats, viewers don't need external webcams, mobile phones have those features already,
Although the small screen size is a hindrance, it is still a big win. For those who like their sex shows fully personal, the mobile site is very private, because you will have sex shows and live cams on a smaller screen size. It is also easy to text with and operate.
So, no matter where you are, and what you are doing, the Flirt4free mobile site will always be in your hands.
Flirt4free Verdict
Flirt4free is a very interactive sex live cam. It has a lot of modes to keep the viewers occupied and sustain interest. It has a lot of interesting chat features and games, which is very peculiar to this particular webcam. It has brought together millions of horny, straight, gay, trans, single and couple subscribers to their webcam community.
However, the major complaints from the viewers are the costs and camera quality. Flirt4free is relatively expensive, but you get what you pay for. There were issues with poor cam resolutions, but the webcam has been able to work on this aspect.
Be careful during chats, to not get banned for foul remarks. Continuous texts at once are also enough to get a viewer banned. If you are not active, you are very likely to have your account suspended.
Generally, it has a very interactive interface, simple to use, and has well-labeled buttons. There is an automatic dark mode, to save the battery health of viewers.
Flirt4free is an amazing webcam, but improvements can still be made.
Frequently Asked Questions
Is Flirt4free safe?
Yes, Flirt4free is very safe. Texts, calls, and conversations are encrypted and private. When signing up, sensitive personal details are not required. Users are also advised against e-mail addresses and usernames other people can know. Card details are only necessary during purchases and transactions. The site is well protected with effective security measures.
Is Flirt4free a scam?
No, Flirt4free is not a scam. The models are real, and sometimes, popular adult stars on social media are invited during feature shows.
The model reviews are by real viewers, unlike some webcam sites that use automated bots to draw users' attention.
The special call feature is a validation that the webcam is not faux. You get to speak with the models and even during webcam sessions, you can see real body movements.
In occasions of fraud and scams, there is an active customer care center for the viewers. There is always a Flirt4free staff, ready to hear your complaint.
How to go live on Flirt4free
After signing up, you select any section you find interesting. There are a lot of categories under each section, based on what the models have to offer, likes, and fetishes. You just have to click on the model badge and join the live show.
During shows, viewers can send texts and tips to hosts. Webcams are not compulsory, only in cam2cam chats.
Can I use Flirt4free for free?
It's in the name already – yes. Flirt4free offers a guest mode, which you don't have to pay for, but it is limited. However, the free mode is not that interesting, all you will have access to is the public webcam session, some pictures, and very few videos. To get the best experience, it is advisable to subscribe to the VIP membership.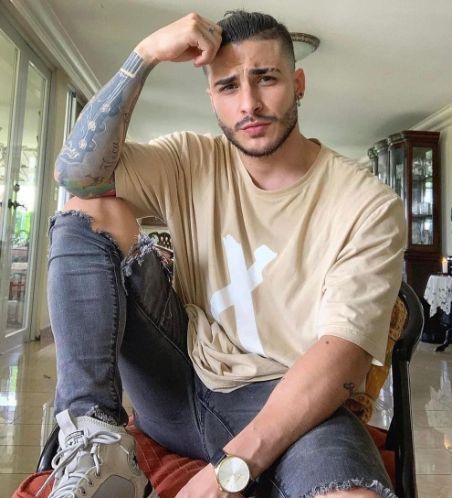 Brian Heimann is a seasoned cam model and expert in the adult entertainment industry. He has worked with top cam sites and knows what to look for when reviewing them.