| | |
| --- | --- |
| Site domain | www.camdolls.com |
| Language | English, Deutsch, French, Italian, Norsk, Russian, Dutch, Portuguese, Swedish |
| Payment options | Visa, Master card, JCB, Discover |
| Pricing | Minimum of $5 |
PROS
Smooth user interface
Cheap credit prices
Multiple chat modes
Adjustable video quality to save data
CONS
Too many action buttons on the home page
Few active models
The highest video resolution is 720p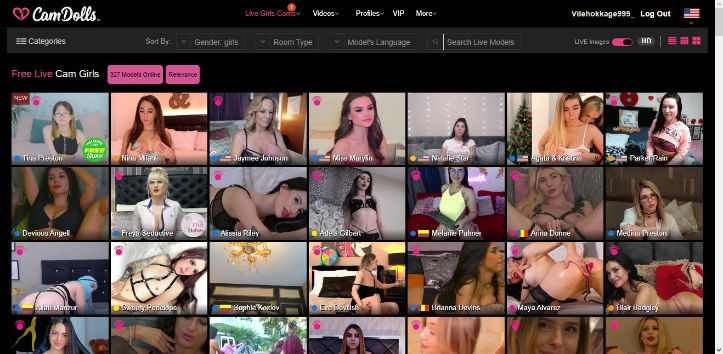 Looking for the best webcam sex site to play on? Then come to the Camdolls play house. Camdolls is a live webcam hub that houses sexy models ready to get down and dirty for you.
With numerous activities and chat features, Camdolls knows how to keep your interest. So, if you have plans to get kinky with the best cam guys and girls, check out this review for all you'll need to know about Camdolls.
Signing up at Camdolls
To access all of the fun on Camdolls, you have to create at least a free account. The registration process is very simple and effortless. You just need an active email address, a chat nickname, and a strong password.
You fill in the chat nickname and put in an existing email address. After that, you will create a strong password composed of uppercase letters, lowercase letters, numbers, and symbols. Make sure it is something you'll remember — it is not easy to recover your account if you lose your password.
When you complete all the required fields, tick the box specifying that you agree with all the terms and conditions. A verification email will be sent to your mailbox.
To maintain privacy, use an unofficial email address and a chat nickname people won't recognize as yours.
Models
The cherry that tops any amazing webcam service is the amazing models that know how to keep the freaky feeling alive. Camdolls models are among the hottest you will find in the whole webcam industry.
It doesn't take much to get them to strip butt naked. The majority of models are from Europe and South America, and they all know how to party.
When selecting a model, there are several search options to choose from, like language, gender, chat room type, fetish, and alphabetic name arrangements.
There are 3 sections of models on Camdolls; Girls, Guys, and Trans
Girls
Female models make up the majority of the host population on Camdolls. They are diverse and come in different shapes and sizes, and know how to get downright kinky. No matter where you want them from, Asia, America, Africa America, Europe, Camdolls has them all in store.
The girls are almost always horny, and if not for distance limitations, down to fuck. Rarely will you see them with clothes on, and they host amazing chat rooms.
Some of the grouping categories of these models include; big boobs, big butt, blonde, domination, stallions, and many more.
Many female models have virtual sex toys that can be activated with credit tips. Lesbians are not left out of the fun, as plenty of active gay and bi girls here.
Guys
Unlike some webcams, there are a lot of guy models on Camdolls. If you're more interested in Ken than Barbie, take a look at Camdolls.
Black, white, muscular, and every other style is on tap. There are usually many active guy models, and just like the chicks, they are ready to go wild.
Some of the common grouping categories for male models include; college guys, bear and club, daddies, and many more.
Gay dudes also know how to keep the party fiery. They give amazing shows and will never run short on fun banter.
Trans
The trannies are also in the house! Watch amazing she-males and cross-dressers strut their stuff. They are usually very confident and don't care about all the outside criticisms.
With colourful dresses and all the makeup, they put on emphatic shows you won't want to miss.
Couples
There isn't a specific section for couples on Camdolls, but they are there to be found. Whether straight or gay, they all have one thing in common — banging shows…in every sense of the word!
You can make requests on what positions you want to see, but be ready to throw in some credits along the way.
Model's profile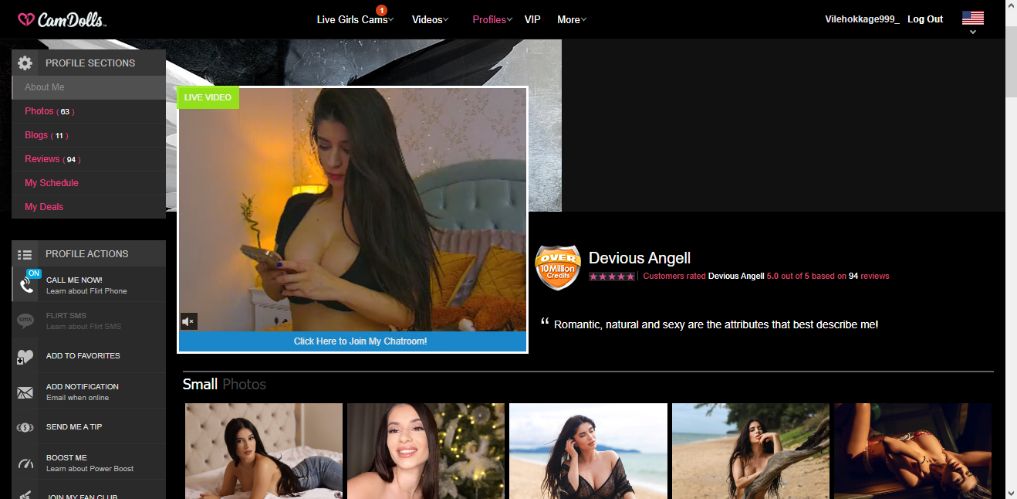 Every model on Camdolls has a profile page. It is kind of a CV where the model talks about all the things you might want to know about her, be it personal, kinky, or arousing.
You can find basic information about the model like age, eye color, hair color, ethnicity, and other stats.
On the same page, you will still find erotic info like what category they fall under, fantasies, obsessions, and their favorite sex toys.
If you enjoy giving your models tips, they will add your name on their profile as a "top gifter".
Models also get badges and awards, and they display them on their profile pages to attract viewers. They also post their schedule, so you'll know when to catch them online.
Photo and video galleries of the model's hottest pictures and pre-recorded videos are also on display, but you'll need to drop some coin for those in the form of Camdolls credits.
Chat features
On Camdolls, live chat happens in chat rooms. Every chat room has its own distinctive features, but they are all very interesting.
There are two membership programs on Camdolls: free membership, and VIP. The free membership is available to everyone that has an active account. There isn't much to see there, but you do get regular chat room access, model profiles, and a select few free pictures. If you want the best, go premium.
The VIP subscription lets you in on everything Camdolls has to offer. For just $39.95 per month, you will get cool features like enhanced private messaging, 200 free videos, regular credit giveaways, model fan club access, and many other perks.
The chat rooms are divided into different styles:
Public chat room
The public chat rooms are open to all users. Free and guest users can interact since public rooms don't require credits. Just don't expect to be able to take other actions. But if you want to take a more active role and make requests, you can meet the prices on the models' page.
Private shows
The private show is a one-on-one show — just you and the model. When you click on the blue 'private show' button, you will be forwarded to the model's private chat page. A payment summary will appear to let you know how much the model charges per minute.
During the private show, you can chat like usual, but other viewers can't see what is going on. You might need a webcam and microphone to have a visual and audio conversation. Above the chat box there is a timer, so you can keep track of the money you spend.
Group chat room
The group chat room works based on credit pledges. During the public shows, the model sets a credit target, and viewers make credit pledges to reach that goal.
When the goal is met, all the viewers that made pledges are moved to the group chat, and the model gives them a show that's worth their money.
You can pledge numerous times if you really want to make sure the target is reached on time.
Party chat
The party chat is a tip-based feature. There is no price to get in, but you just have to keep on tipping continuously. Once the model realizes that viewers aren't putting in tips anymore, the show will end.
Whisper messages
Whisper messaging is a cool feature that we've only seen on Camdolls. It is only available to viewers with credits in their Camdolls account. You will be allowed to send private messages to models during public shows. However, be mindful of how you use this feature, as it distracts models from the show. If you start acting like a stalker, they may disable this feature.
Voyeur chat rooms
For those that enjoy other viewers' conversations, you should try out this feature. You can watch one-on-one chats that models have with other viewers, but you won't be allowed to make any actions.
Play and Pay
Play and Pay is simply a private show that gets charged after the show. You won't need to make your payments before the show starts.
Camdolls' streaming quality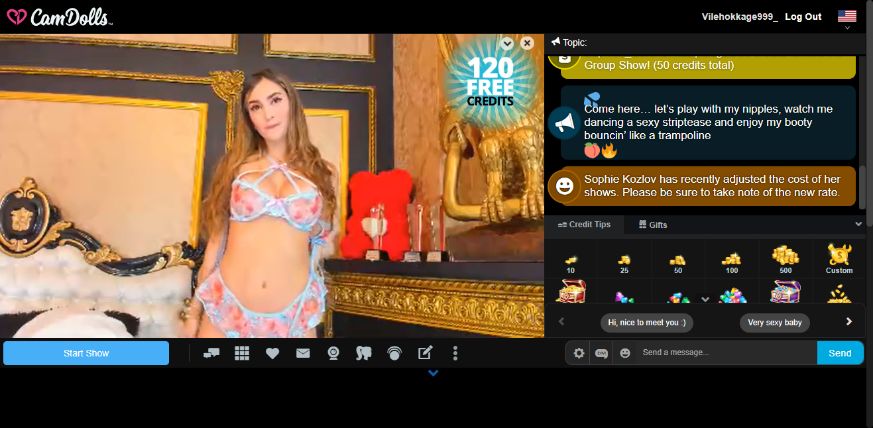 During a live chat session, there are three screen sizes to pick from. You can also change the video resolution, but Camdolls doesn't have 1080p displays. The highest resolution is 760p.
All models have HD cams, which is cool. Some models use VR cams for their shows, for viewers that have compatible devices. One-on-one shows require webcams and microphones, so you might need peripherals for this function.
However, you won't need webcams and microphones on your mobile phone. All chat rooms have reactions and emoji responses, but you will need credits to use them. These reactions spice up the conversations and are really interesting features.
Pricing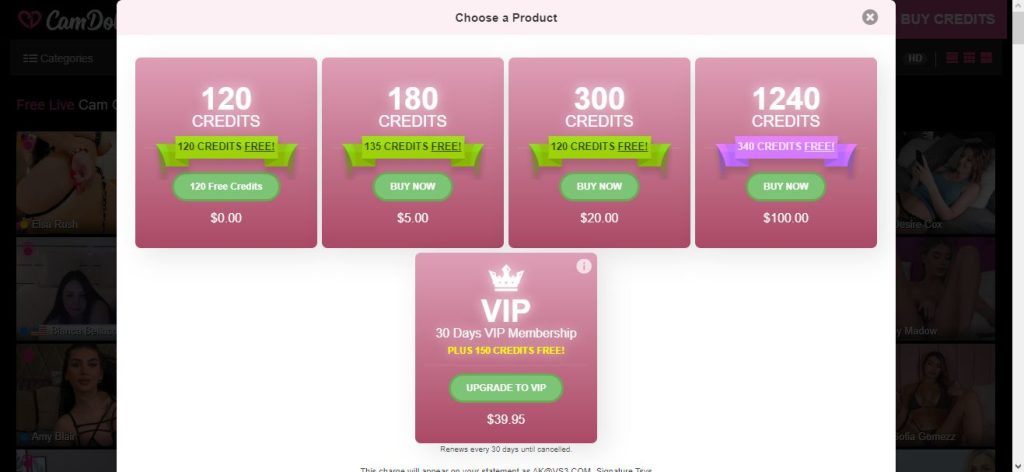 Credit prices are reasonable. There is no standard rate per credit, but the package goes for $5. Credits are the only currency on Camdolls.
After your first deposit, you'll get 120 free credits. Premium subscribers also get frequent credit giveaways. Here are some of the credit packages on Camdolls:
120 free credits on registration
180 credits + 135 free credits ~$5.00
300 credits + 120 free credits ~ $20.00
1240 credits + 340 free credits ~ $100.00
Payment options
Credit cards are the only accepted payment method on Camdolls, which is very annoying. Viewers in some regions have a hard time making payments and credit purchases.
Unfortunately, only a few credit card types are accepted:
Visa
Master card
JCB
Discover
Camdolls' mobile site
There is no downloadable Camdolls application in any of the app stores, but they do run a mobile website. It functions exactly like the desktop version.
However, it is subject to the usual criticism that most mobile sites face — small screen resolution. Anyways, we feel it functions acceptably, and it may give you more privacy and secrecy during the shows. So, if you don't enjoy people peeking during the shows, check out the mobile app.
Also, you will not need external webcams and microphones to have one-on-one webcam shows since your phone already has those features.
Camdolls verdict
Camdolls has improved their UI to become a cool online live sex hub. With numerous amazing features to keep the viewers engaged, it does a decent job.
The camera resolutions are good but not great; a 1080p display option would make it much better. There are also a lot of chat rooms, to keep you busy. You'll hardly get bored on Camdolls.
The pricing is good, but they need more payment options. Really, in today's age, why is credit card the only method?
The models and hosts on this webcam site are really pretty and hot. They put the doll in Camdolls.
Generally, Camdolls is above average, but there's a lot that can be improved. For now, I'll give it a 6.5/10.
Frequently Asked Questions
Is Camdolls safe?
Yes! Camdolls is safe. Email addresses and other login details are kept secret from other viewers. Payment details are not required until you wish to make a purchase, leaving no space for any funny business.
Is Camdolls a scam?
No! Transactions are legit and honest. The models are real, and the viewers' reviews are absolutely real. In case of any complications, you can contact customer service, which is always active.
How to go live on Camdolls?
After registration, you will select whichever model you want to see perform. You can choose from the different chat modes available.
You can have face-to-face chats on private chats, with webcams, and microphones. However, mobile sites don't require external webcams.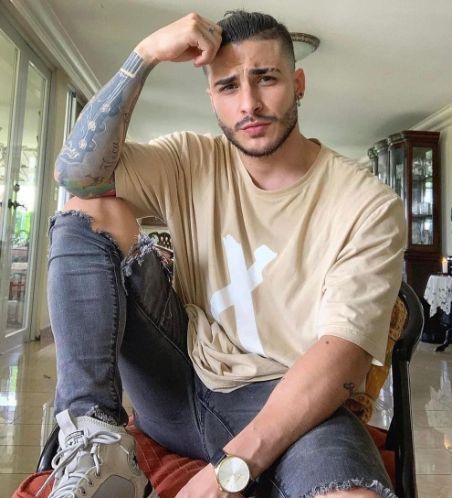 Brian Heimann is a seasoned cam model and expert in the adult entertainment industry. He has worked with top cam sites and knows what to look for when reviewing them.