| | |
| --- | --- |
| Site: | https://en.royalcams.com/ |
| Language: | English, German, Italian, French, Polish, Russian, Spanish, Romanian, Portuguese, Turkish, Danish, Suomi, Chinese, Korean, Arabic, 19+ |
| Payment Methods: | Credit card, SMS |
| Pricing: | $0.05-$0.08 per token |
Pros
Thousands of attractive and sexy models.
Diverse categories of hotties to jerk off to.
Has special features that improve the experience.
Organizes contests between models to improve activity.
Cons
Only paying members can watch in full screen.
Annoying ads.
It is a clone of BongaCams.
It will limit your free watching.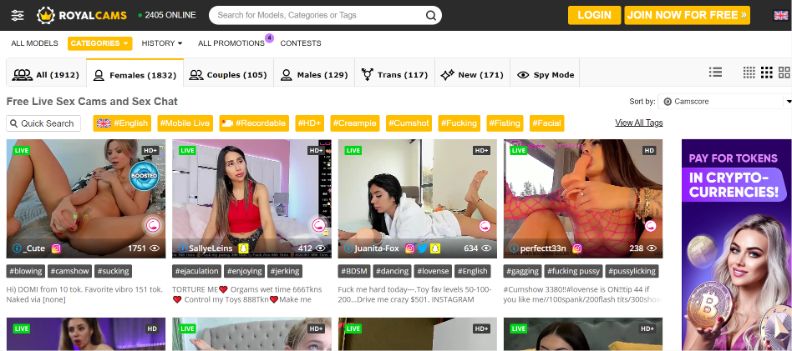 RoyalCams is an adult webcam site with over two thousand models for viewers to enjoy. With sexy babes for you to watch and jerk off to, you might be tempted to sign up as soon as possible. While RoyalCams is cheap, the site is a clone of BongoCams and has other questionable features. Let's take a closer look.
Signing up on RoyalCams
If you've ever used BongoCams before, you'll be able to recognize the similarities between it and RoyalCams quickly. The sites have the same designs as the latter is a clone, so they have the same process to sign up.
It's advisable to use BongoCams rather than signing up on RoyalCams. If you want to use Royal Cams, here's how to sign up:
Click on Join Now For Free.
Enter a username and password.
Verify that you are over 18 and have read the terms and conditions.
Sign up.
Once you sign up, you can make your payment and become a premium member for free.
Models
There is an extensive range of models available for you to jerk off to on RoyalCams. Whenever you're in the mood, you can see up to 2000 models online at each time. They offer you free live sex cams that you can watch without even signing up. But, keep in mind that all the cams on RoyalCams are cloned from BongoCams, so it's better to go straight to the source.
Girls
The main audience on most cam sites is straight men, and RoyalCams is not left out. This is why the site has an impressive selection of over 1800 female models, although not all are online at the same time. Regardless of what turns you on, there's a good chance that you'll find the woman of your wildest sexual fantasies here.
These sexy babes are wild to do whatever you want, from anal play and masturbation to BDSM, dildo play or feet fuck. Under every thumbnail, you can see what the horny slut will be doing in her show, like squirting, fucking hard, deep throat, hand job, and more.
Guys
If you prefer some hunky daddies and sexy college boys, RoyalCams has a selection of male cams too. There are over 100 male cams that you can masturbate to, and these guys are always ready to go down and dirty for you. But that's if you can get past the annoying ads on RoyalCams.
There are different things these men have to offer, like feet fuck, masturbation, ass fingering, ass licking, fucking, butt fuck, dildo play and more.
Couples
In some cases, you can wank more than one person on your screen. If you want to curate your own porn show by telling more than one nasty model what to do to get you off, check out the couples section on RoyalCams. There are over 100 couples cams, too, with straight, gay and lesbian couples that will do the nastiest things.
Look out for rimming, pussy fucking, ass licking, ball-sucking, deep throat and more. This all sounds tempting, but you can get this from BongoCams, as this is where all the cams are cloned from, at great prices or for free.
Trans
There are over 100 trans models on BongoCams, so it is not surprising that the same is featured here on RoyalCams. Look out for the sexiest trans models with shows for dildo play, blow job, deep throat, double penetration, and even group sex.
Model's Profile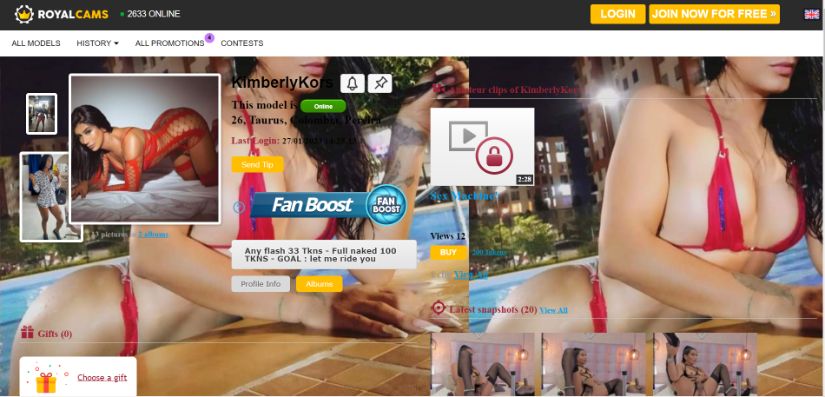 Before watching any model on RoyalCams, you can check out the profile of the model first. Access this by clicking on the show and scrolling down, where you will see the model's profile. Click on view the full profile, and it redirects you to the model's complete profile, where you can see their name, sexual orientation, pricing, birthday, and more.
The design of the profile is awful because you can barely see what the models have written about themselves. This is because the black font clashes against whichever background the model puts, and if it is black, then you can't see it at all.
The profile also includes what makes the model horny and what turns them off, their wishlist, what they do on cam, their videos and pictures.
RoyalCams Chat Features
Like every other cam site, RoyalCams allows you to interact with the models directly. If you don't have an account, you can still watch the nude and hot shows for free but after a few minutes, the site will block you until you create an account. You will have to go back to the homepage and click on another show. Also, you can't watch the models in full screen until you become a registered member.
The chat types and features are exactly the same as what you would get on BongoCams. It's better to use BongoCams since RoyalCams is a clone and might not be safe for use. You can also avoid disruptive ads.
How to Chat with the Models
If you want to chat with the babes on RoyalCams, you should start by clicking on the show that you want. There is a wide range of filters and advanced search options that you can use to find the model of your dreams. Then, click on her and get ready to jerk off.
From there, you can see the model doing her thing on a screen on the left side. Under the screen, there are options to request a group chat, a private chat, or send tips. Then, you will see the chat box on the right side of the screen, with the messages from other viewers and how much they are tipping.
You can type a message, set the music background, and play games with the model. If you scroll down, you can see a snippet from their profile.
Types of Shows Available
There are different types of shows on RoyalCams. But, these are the exact same thing with BongoCams since the site is a clone. On RoyalCams, you can watch private shows, and these are shows with only you and the model.
You can also go for the spy chat, which allows you to spy on someone else's private show. Another option is the full private show, which is perfect for anyone that doesn't want spies in their show. If you have some private kinks and fantasies that you want the model to fulfill, the full private show on RoyalCams is ideal.
There is a group chat, too, on RoyalCams. More than one viewer can request a group chat and watch a sexy model together. The group chat ends when you run out of tokens.
RoyalCams Streaming Quality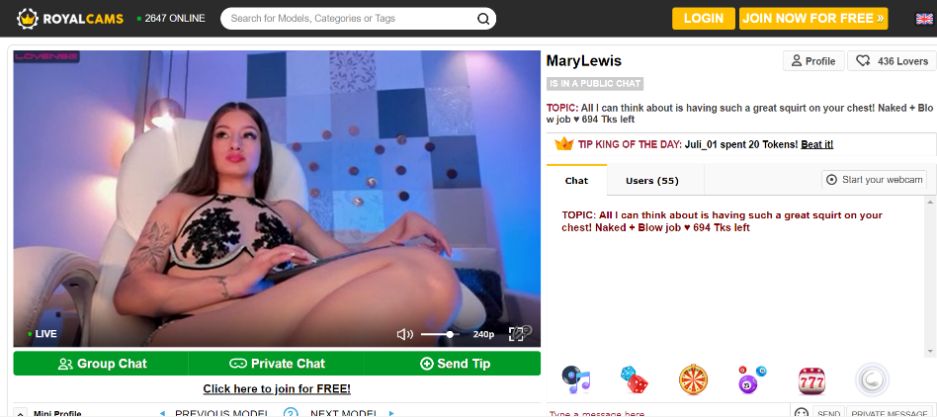 It's important to check the streaming quality of a cam site before you sign up for it. Since RoyalCams is a clone of BongoCams, you can expect top quality when streaming videos because it is the same thing. Whether you're watching on mobile or desktop, the quality will be top-notch and convenient.
Many of the models on BongoCams use HD cameras because they are professionals. So this is reflected in the shows on RoyalCams. On the homepage, if you see the HD tag on a thumbnail, that shows that the model is using a good camera.
RoyalCams, like BongoCams, allows you to change the screen resolution by clicking on the number beside the volume. You can select from 240p to 1080p or choose automatic and it will change based on your internet quality
Pricing
The pricing in RoyalCams is the same as BongoCams. It uses an in-site currency called tokens, and you can purchase it in bundles from 26 tokens to 50,800 tokens. The tokens cost between $0.05 and $0.08 per each one. Once you purchase tokens once, you get a premium membership for life.
Models on RoyalCams will set the price for the private chat, spy mode, group chat and full private chat, but most of them go for the default price. The default price for the private chat is 60 tokens per minute, while the spy mode goes for 15 tokens per minute.
Payment Methods
There are different payment methods that you can use to buy tokens on RoyalCams. The payment methods include:
The RoyalCams site accepts Visa or MasterCard. You can also make payment via SMS, where you send a message to a given number and receive a code. You can get free tokens once you sign up or look out for promotions.
RoyalCams Mobile Site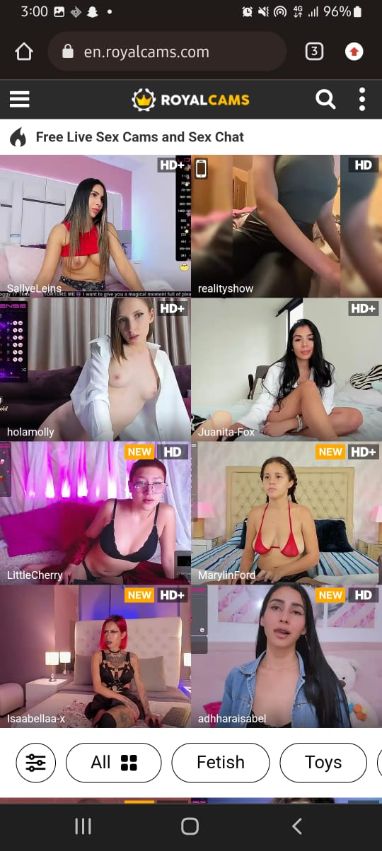 RoyalCams offers good mobile compatibility, which is not a surprise since it copies all its features and technology from BongoCams. If you want to take a sneak peek at the sexy models when you're on the go, you can open the site using the browser on your phone and start watching them.
The RoyalCams mobile site is very easy to navigate and can be opened on any browser. It features a hamburger menu at the side for navigating the site, different well-sized buttons, and clear camera quality. Some models are specifically doing mobile shows, allowing you to enjoy the streaming quality.
RoyalCams Verdict
RoyalCams might seem like a top-notch cam site at first glance, but it is an unreliable site, and you should avoid signing up for it. The site is a clone of BongoCams, and every single bit of RoyalCams is copied down to the FAQ section. Your experience will be hindered by the ads and annoying pop-ups.
All the models are cloned from BongoCams, so it is better to watch it from the original site. With RoyalCams, you get access to different kinds of models and shows, with affordable pricing for the tokens. Despite this, RoyalCams is not recommended.
FAQ
Is RoyalCams Safe?
RoyalCams is not reliable to watch cam girls go down dirty. You should consider BongoCams or other safe sites. It is not recommended to give RoyalCams your personal information.
Is RoyalCams a Scam?
RoyalCams is a scam because the site is a clone. It copies every single detail from BongoCams, even the models and their shows.
How Do I Sign Up As A Performer on RoyalCams?
It is better to go directly to BongoCams if you want to be a performer. If you click on become a model on RoyalCams, it takes you to bongamodels.com directly.
Can I Use RoyalCams For Free?
There is a lot of content that you can watch for free on RoyalCams. You can watch nude and sexy public shows without even sending tips. But after a few minutes, the site will block you from watching.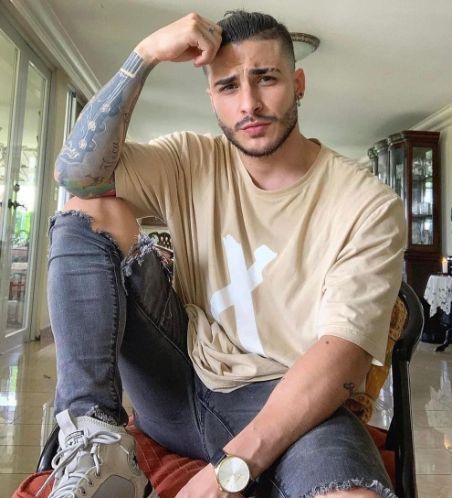 Brian Heimann is a seasoned cam model and expert in the adult entertainment industry. He has worked with top cam sites and knows what to look for when reviewing them.