Pros
Different kinds of professional UK cam girls.
Enjoy different sexual services like phone sex.
The VIP program offers more perks and shows.
Website is easy to use on mobile and desktop.
Cons
Some of the babes on the homepage are not available.
It is very expensive.
There are no free shows available.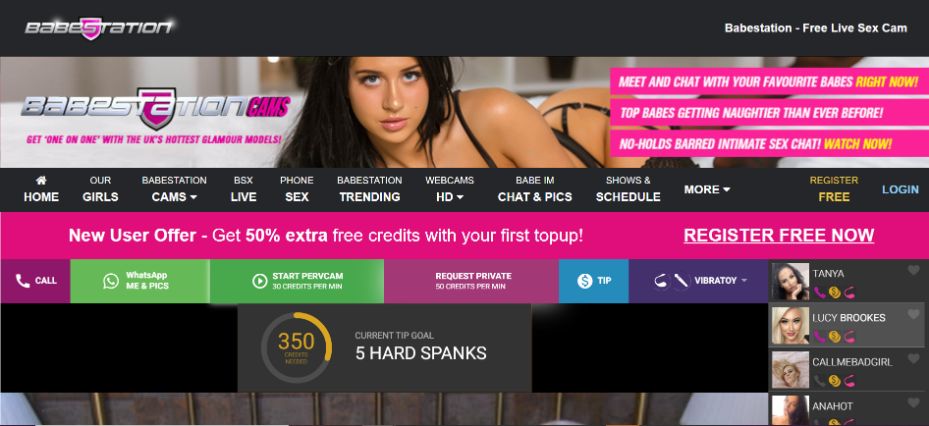 Babestation.tv is one of the most popular live cam websites in the UK and has been running for over 15 years. The site boasts a rich selection of sexy babes and trans models, from mature MILFs to sexy Latina performers. If you're thinking of getting wet at Babestatio.tv, our review covers all you need to know first.
Signing Up At Babestation.tv
There isn't much you can do on Babestation.tv without signing up. The cam shows are not available for free, so you will have to sign up and purchase credits before you will be allowed to do literally anything, from watching private and group shows to engage in phone sex and more.
Luckily, the registration process is free, so you don't have to spend money right off the bat. When you open the Babestation.tv homepage, you can follow the steps below to sign up on Babestation.tv:
Click on Register Free in the top-right corner of the screen.
Enter your email, username, and password.
You can then sign up and purchase credits.
New users on Babestation.tv will get 50% extra free credits on their first top-up. Keep in mind that a verification email will be sent to you, so you need to verify your account before going any further.
Models
If you're looking to get wet on Babestation.tv, there is a wide range of models for you to choose from. The main downside is that most of the models are girls, lesbians, and trans girls. You won't get any guys on the site, whether straight or gay. It's also rare to see a couple of shows, so Babestation.tv is pretty old-fashioned.
Girls
Those who want to enjoy jerking off to sexy girls will find their needs met on Babestation.tv. The cam site has mostly girls available for you, regardless of what you're looking for. These sexy models on Babestation.tv are always ready to get down and dirty for you, but only if you pay. Also, they're known for being pretty expensive.
You can get wet with the Asian, Ebony, British, Latina, Blonde and European babes available on Babestation.tv. Not only this, but there are tags like small tits, big tits, MILF, submissive, dominant, and more. Regardless of the type of woman you want on your screen, there's something on Babestation.tv, but for a pretty penny.
Couples
Couple cams are rare on Babestation.tv, which is disappointing for those that are looking for variety on the cam site. Most of the cams you will find are just one woman putting on a show for you, and they're already pretty expensive. If you're lucky, you can come across a lesbian show or a straight couple show (the only time you actually see men on this cam site).
If you're looking for a cam site with sexy couple shows, then Babestation.tv is not ideal for you.
Trans
Despite being old-fashioned, Babestation.tv has a couple of trans cams for you to get nasty with. These sexy trans performers are always eager to please, but, as expected, there are only a few of them.
At the time of this writing, there were four trans models on Babestation.tv. Also, the models were not online. You'll be lucky to get a private show with any of these babes.
Model's Profile
Babestation.tv offers a detailed model's profile despite its many flaws. You can view different kinds of information about the model before deciding to go into a private or group show with them. Remember that there's no free show on Babestation.tv. The profile also offers sexy pictures of the model, and some of them are so hot that you'll be eager to start spending credits.
To view a model's profile, simply click on the model, and it will take you there. The Babestation.tv profile shows how much the model charges, a short bio, and different sexy pics that you can explore. There are some paid pics too, so if you can't get enough of one of their porn stars, you can purchase the pictures.
You can also view the model's tags on Babestation.tv, which are the things they enjoy doing, like foot fetish, blowjob, worship, deep throat, humiliation, and more.
Babestation.tv Chat Features
Once you start a show with any of these sexy Babestation.tv models, you can chat with them. The chatting features are easy to use, and you have the model all to yourself to command and relate. There are different ways you can chat with the provocative camsluts on Babestation.tv, whether you want to call them, watch them live, or even send a message.
Cam2Cam
If you want the sexy model to see the effect they have on you, you can opt for the cam2cam option on Babestation.tv. This allows you to enjoy a sexual video call with the model that you choose. The cam2cam option is one of the most popular chat features on Babestation.tv. If you want to use this feature, you must have registered as a member on the site with any of the three packages.
Gold Shows
Another exciting chat feature on Babestation.tv is the gold shows. With gold shows, the model will have a target that she wants to reach, and only when she reaches it can the show go ahead. So, you will have to send tips along with other viewers if you want to get the most out of this sexy model. Babestation.tv users have complained that the model's always stop the show to ask for more tips. So, if you don't have enough cash, you'll end up with some blue balls.
Pervcam
Pervcam is another service on Babestation.tv that allows you to interact with the model live. You can chat with them through webcam, voice, and online live messaging services. The webcam allows you to chat with the model of your dreams, and there are some sexy babes that will enjoy doing whatever you want through the webcam.
Babecall
Aside from the cams, you can also call the sexy girls with the Babecall feature. This allows you to call them with your PC audio or phone, and it will remind you of Skype. There are numbers that you can call depending on where you live, and from there, you can enjoy phone sex with gorgeous women. If you don't have money to pay for the cam sex shows, you can use the Babecall instead.
Instant Messaging
There is an instant messaging service on Babestation.tv that allows you to send and receive messages with sexy cam girls. If you find a model that you really enjoy their show, you can become closer to them, get sexy pictures and videos, and more. But you need to pay 15 credits for every message you send and 30 credits to send a picture of yourself.
Babestation.tv Streaming Quality
Babestation.tv offers average streaming quality, which is quite disappointing. Most of the models don't have HD cams, which is pretty disappointing. You will end up with a lot of grainy cams, and this is disappointing, considering that you always pay for any interaction you have with the models. You can look out for those with HD cams as you explore.
Keep in mind that you will be allowed to edit your screen while watching Babestation.tv. You can choose full screen or not, and also select the resolution. So, even if the kinky model does not have a good camera, you can improve it on your end.
Babestation.tv will work better if you have a reliable internet connection. You should check if you have a good internet connection before paying for any show, or you will end up regretting paying all those credits.
Pricing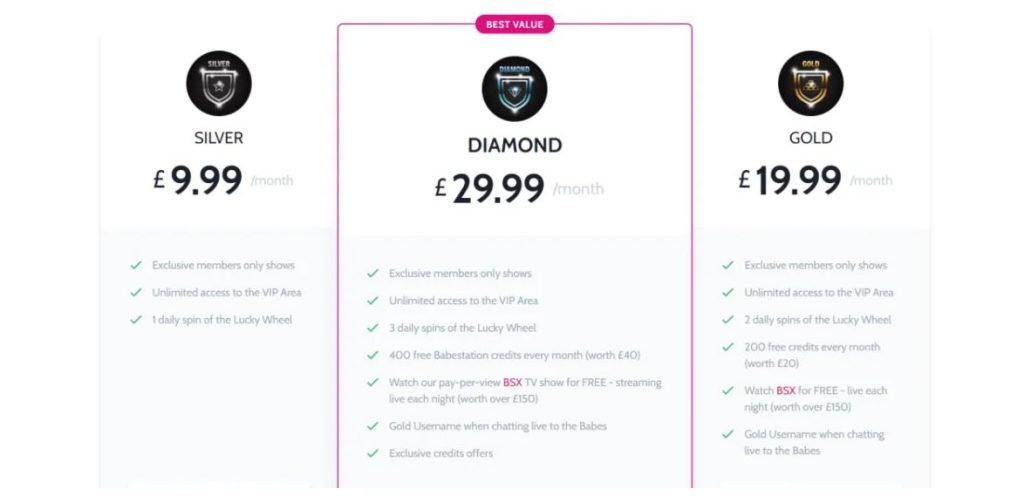 Babestation.tv is known for having very expensive cam shows, so you can expect to spend a bit of money before you can watch the shows. The main pricing is €0.10 per 1 credit, and you will spend about 5 credits per minute for a private show and 3 credits per minute for a group show.
Aside from the credits, you can become a member of Babestation.tv and go for one of their three pricing plans. The cheapest plan is Silver, which goes for €9.99 per month. If you want to have free credits every month, you should consider the Gold or Diamond plans which give you 200 and 400 credits per month, respectively, among other perks.
Keep in mind that you will also have to give tips to these sexy babes, especially if you're enjoying the show. Some of the models tease a lot because they want you to give them more credits before they continue.
Payment Methods
There are three different banking methods that you can choose from when using Babestation.tv. For one, you can connect your credit card and use that to pay for the credits. Also, you can use your phone to pay when you make calls with the models. There is also the option for cryptocurrency and NFTs of the Babestation models.
Babestation.tv Mobile Site
Babestation.tv has a fantastic mobile website, and you might even enjoy using it better than the desktop. Once you open the site on your mobile device, you will be taken to the web app immediately. It is designed properly and easy to navigate, and you can view the cam girls and the phone sexy models too.
The mobile site is divided into the calls only girls and the cam girls, so there's something for everyone. The payment structure remains the same, and you can use your credit card or phone bill to pay.
The hamburger menu on the left side allows you to navigate to wherever you want to go. You can check out the options to log in and register, watch live shows, VIP updates, the gallery, schedule, IM chat and pics, and more. You can also find the FAQ section and the contact us option. The chat rooms are also well-designed on mobile.
Babestation.tv Verdict
Babestation.tv is a well-known cam site in the UK, but it is also quite expensive and also old-fashioned. You will only see female cam models that are available, and they aren't always online. The cam site is also expensive, as there are no free options available, and the paid options are costlier than other sites.
If you have money to spend and you don't mind searching far and wide for a model you like, you can check out Babestation.tv. It also offers phone sex options in case you don't want a cam girl.
FAQ
Is Babestation.tv Safe?
Babestation.tv is a safe and legit cam site that you can sign up on for your sexual entertainment. The site is registered and reliable, so you don't have to worry about losing your information. Your credit card details, phone number, and more are kept safe and not shared with any third parties.
Is Babestation.tv a Scam?
Babestation.tv is not a scam but a reputable and well-known UK cam site. The only thing that you might see as a scam is how expensive these cam girls are when you can get an even cheaper option on a wide range of sites.
How do I sign up as a performer on Babestation.tv?
If you're a model and want to start working on Babestation.tv, you can open the site and scroll down to the bottom of the site. Click on Become a Babestation Model and then select Apply Now. From there, you can input your details and apply.
Can I use Babestation.tv for free?
No, Babestation.tv is not available for free. If you want to watch any of the cam girls, you have to pay at least 3 credits per minute. There is nothing free on Babestation, so you can't even check the content before you pay.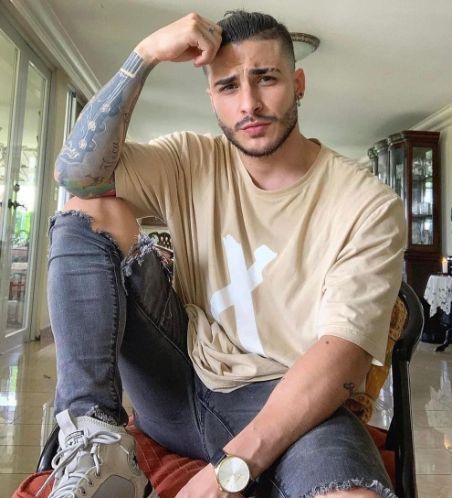 Brian Heimann is a seasoned cam model and expert in the adult entertainment industry. He has worked with top cam sites and knows what to look for when reviewing them.