| | |
| --- | --- |
| Site | https://pornoroulette.com/ |
| Languages | English, French, German, Spanish, Italian, Portuguese, Russian |
| Payment Options | Credit Card, Cryptocurrency |
| Pricing | $0.08 – $0.8 per 1 token |
Pros
Wide range of sexy models for your viewing.
You can view free nude content and sex shows.
It is compatible with your mobile and desktop device.
You can watch some shows with as low as 1 token.
Cons
The search features are unhelpful.
Many of the models are unreasonably expensive.
The website glitches and hangs when you use it.
A clone of Chaturbate.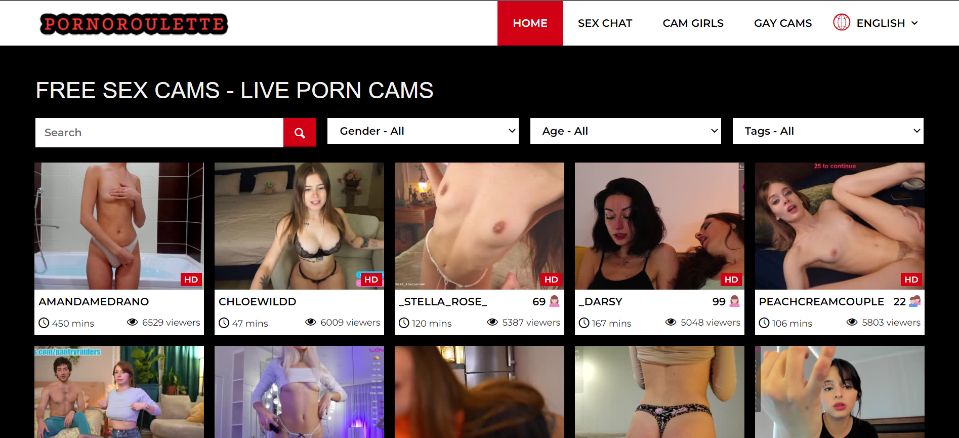 Pornoroulette is one of the wider known cam sites that allow you to view sex and porn cams wherever you want. With different kinds of horny models that are ready to strip for you, you can view their sexual content for free. Let's take a closer look in our Pornoroulette review.
Signing Up At Pornoroulette
Pornoroulette does not require you to sign up to start using the website. All you need to do is open the cam site, and you can click on any girl you want to get started. There's no button to log in on the homepage, which is quite confusing.
When you open a model's live sex show on Pornoroulette, and you want to send a tip, you will then be prompted to log in:
Click on Send Tip.
Select Ok to Login.
Choose to Sign Up instead if you don't have an account.
Input the details and sign up.
You don't have to input your email address or credit card until you want to pay on Pornoroulette. Also, the cam site will ask you whether you are a female, male, couple, or trans. You cannot chat until you sign up.
Models
Pornoroulette has a decent collection of models from different parts of the world. There is a limited variety, as you mostly get girls and guys. There are a few couple cams and trans models too, but you mostly get girls and gay cams. The site is also suspiciously a clone of Chaturbate, so you should be wary of that.
Girls
The main type of model you can find on Pornoroulette is girls. These are sexy and exotic girls that are eager to please your wet dick, and there is a wide range of them. Simply select the Gender on Pornoroulette with the drop-down button or click on Cam Girls in the top right options.
The girls on Pornoroulette come from various parts of the world and also different ages, all 18+. You can look out for some anal play, squirt, mature, Lovesense, and other kinds of shows. There are sexy babes with small tits, big ass, hairy, petite, MILF, college, and more. You can also enjoy Latina, BBW, Asian, Ebony, Ohmibod, and more.
Guys
If you're interested in some gay cams or a sexy man to call daddy and do your bidding, Pornoroulette has some options for you. You can select the Guys section easily or click on Gay Cams at the top right corner.
You can expect some nasty and sexy cams in this section, regardless of what you're looking for. From skinny and young guys to buff and hairy men, choose whatever turns you on. Look out for caucasian and ebony men, those who want you to call them daddy, and those who love ass play.
Couples
For some people, their thing is to see a couple enjoying sex on a cam site. Well, with Pornoroulette, there are a few couple cams that are available. Watch a straight, gay, or lesbian couple fuck each other to your pleasure or play around with different fetishes and styles. You can explore the page by selecting Couple on the dropdown menu on Pornoroulette
Trans
Pornoroulette offers different trans cams for its viewers to explore. These sexy trans models are ready to go down and dirty for you with their different shows. You can explore their tags and find trans models of all ages. They are a few trans couples too, so if you're looking for double the fun, you can find it on Pornoroulette.
Model's Profile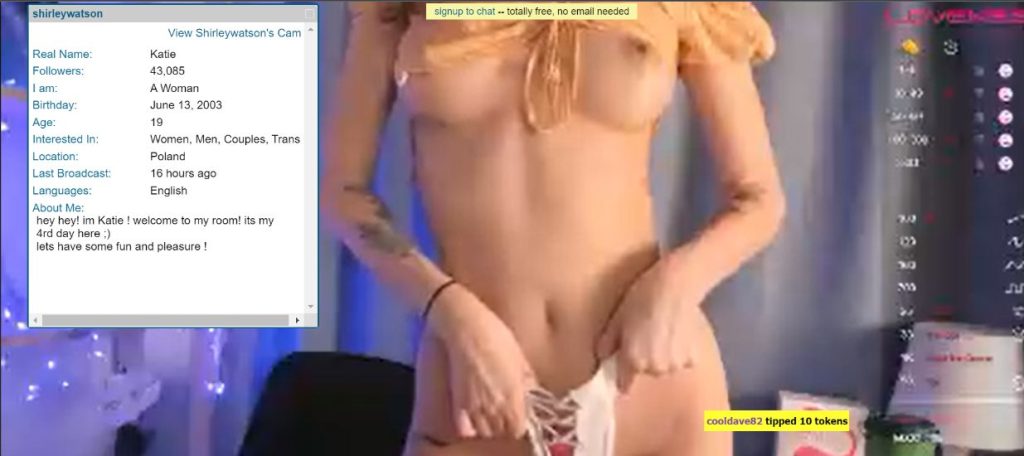 Pornoroulette does not have a proper model's profile, so you only get a little bit of information on the models. When you open a model's live show, you can click on their bio, and a small pop-up will show you brief information on the model. It shows at the top-left corner of the Pornoroulette site.
You will see the model's gender, what they're into, their age, where they're from, and a short bio inviting you to have some fun. The bio does not offer a lot of information on Pornoroulette, so if you want to know more about the model, you should watch their show. There are also sex chats on Pornoroulette to get to meet sexy models.
Pornoroulette Chat Features
It's pretty easy to chat on Pornoroulette, although the chat interface is poorly designed. You can barely see the chat box on the bottom-right side, and it is unclear. Once you sign up on Pornoroulette, you can start sending messages to the model and sending tips. Sometimes, the website hangs when you're chatting, and it's very frustrating.
How to Chat
If you want to chat on Pornoroulette, simply sign up and then open the model's show. From there, you can compliment their sexy body as much as you want by sending messages in the chat box. You can also view the messages sent by the other people watching the show on Pornoroulette.
Aside from sending messages, there is an option to send emojis and GIFs, so if words can't express how you feel, you can use other options. The Pornoroulette chatbox also has a button for sending tips. In the chat box, you can view the activity like how many people sent tokens and whether the Lovesense is connected or not.
Side Menu
When you open a live show on Pornoroulette, there is a side menu that pops up when you touch the screen. The first thing on the menu is the information on the model. You can view their bio, send a private message, follow them and also join their fan club. Right under, there is the option to view more rooms on Pornoroulette.
Then, you will see the option to send tips or request a private show with the model. After that is the user's list. Next, you can increase or decrease the volume and choose the video size and resolution you want. The final option is to log in to Pornoroulette, exit the full room, report the show or send feedback.
Different Kinds of Shows
There are different kinds of shows that you can watch when you use Pornoroulette. The cam site allows you to watch the free shows, which is where you and other viewers can watch the model for free. But you can only get the sexy babe to do something dirty for you once you drop tips and tokens.
If you want that slutty cam girl to yourself, you should go for the private show on Pornoroulette. In this show, only you and the girl are in the room, and she is willing to do your bidding. This is a chance to achieve all your fetishes and dirty fantasies without anyone seeing it.
Some Pornoroulette viewers cannot afford the private show, as they go from 6 to 90 tokens per minute, depending on the model. If you're one of them, there's still fun for you with the spy cam. You can spy on someone else's private show, but you won't be allowed to say anything.
Sex Chat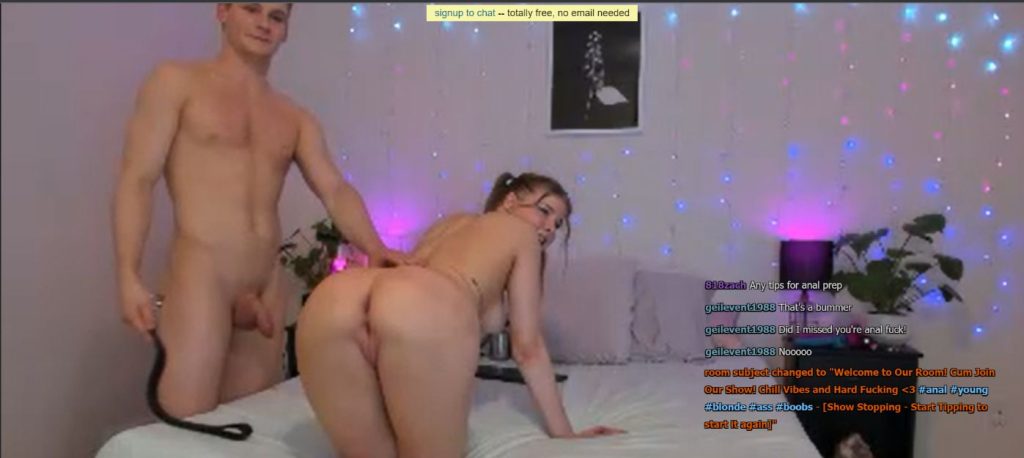 If you click on the sex chat option on Pornoroulette at the top of the screen, you will be redirected to a Flingster page. All you need to do is indicate your interests and start chatting with other sexy people that are willing to go down and dirty with you.
Pornoroulette Streaming Quality
Pornoroulette offers good streaming quality, which means you can get a good experience from any of the sexy cam shows. For one, you can easily identify which of the models are going to use an HD camera before you click on the show. You will see the HD tag on their video, although it's suspicious because the same cams are on Chaturbate.
When watching a show, you can choose the size of your screen, whether you want it cropped or a letterbox. Then, you can select the streaming quality from 240p to 1080p. There is also an option to choose automatically, so it would fluctuate based on the network.
Pornoroulette hangs a bit, and this affects the streaming quality. Some of the cams are also taken from Chaturbate, so they aren't clear regardless of how much you increase the streaming quality. Your internet connection will also influence the streaming quality.
Pricing

The pricing on Pornoroulette is easy to understand, but you need to sign up and add a payment method. One token costs between $0.08 and 0.8, depending on how many you are buying. You can buy up to a thousand tokens at once and use them for private shows, spy cams and free shows.
There are different kinds of private shows that you can buy, costing 6 tokens, 12 tokens, 18 tokens, 30+ tokens, 60+ tokens, and 90+ tokens. The cost of models depends on how popular they are. If you're thinking of purchasing tokens, you should consider using Chaturbate instead.
Payment Methods
Pornoroulette offers only two payment methods, which are credit cards and cryptocurrency. You don't have to add the payment method when you sign up, until you want to buy tokens. There is also customer service for your billing needs. The banking options are convenient to use.
Pornoroulette Mobile Site
There is a mobile version of Pornoroulette, and this gives you a chance to watch some of the sexiest shows while you're on the move. The mobile site has a better design and navigation than the desktop, too, and is not as sluggish. Whether you want to sneak a peek at sexy models on the move or during your lunch break, there are different options for you.
Despite being on your mobile phone, Pornoroulette offers good streaming quality for the models. It does not seem too squashed or tiny, and you can clearly view all the cam girls. When you click on the show, you have the screen at the top part and the comments under it. You can choose to resize it, send a private message, follow, and more.
Anything you can do on the desktop site is available on the mobile site. The hamburger menu on the top-left corner allows you to choose the gender or type of show you want and whether you want a private show or not.
Pornoroulette Verdict
Pornoroulette is a decent cam site where you have access to a wide range of models. You have access to all kinds of nude content, many of which you can see for free. You don't even have to sign up to view the sexy shows. Also, it's pretty affordable to tip the models with as low as 1 token.
But, where Pornoroulette falls short is in terms of originality. The site is basically a clone of Chaturbate, so much so that the live shows and models are the same. This makes it suspicious, especially since the models are live on the two sites at the same time. Even if Pornoroulette is basically cheating, it still offers free content up for grabs.
FAQ
Is Pornoroulette Safe?
Pornoroulette is not a safe or legitimate site since it is a clone of Chaturbate. If you're looking for a safe place to put your money and enjoy some 18+ fun, you should consider safer alternatives, especially one that is not a clone site.
Is Pornoroulette a Scam?
Pornoroulette can be considered a scam since it is basically Chaturbate with a different name. All the features and a lot of the cam shows are the same, which makes it a suspicious place to sign up for your adult sex fun. You can protect yourself by choosing an alternative.
How Do I Sign Up As A Performer on Pornoroulette?
Models sign up the same way as viewers on Pornoroulette, and you can then select the option to broadcast yourself. It's advisable to use a more legitimate site if you are a model considering Pornoroulette. This way, you can protect yourself from scams.
Can I Use Pornoroulette for Free?
Yes, you can. A lot of the content on Pornoroulette is available for free, so you don't have to pay before you can see nude content. If you want the model to do something for you, you have to send tips. You can only enjoy the show fully when you pay for the private show or spy cam.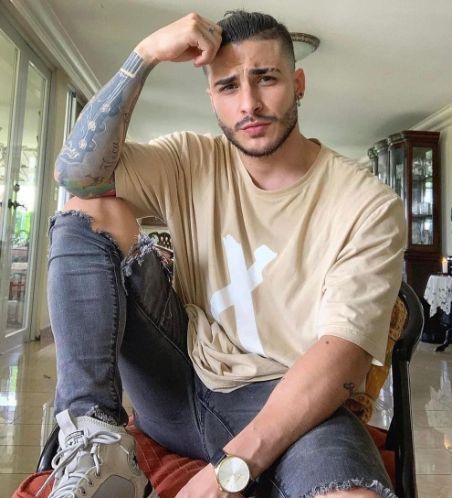 Brian Heimann is a seasoned cam model and expert in the adult entertainment industry. He has worked with top cam sites and knows what to look for when reviewing them.