| | |
| --- | --- |
| Site | www.nudelive.com |
| Language | English, Portuguese, Dutch, Korean, Chinese, Italian, and Spanish. |
| Payment Options | Debit/Credit Card, Paypal, Wire Transfer, Bitcoin, Money Order, Certified Check, etc. |
| Pricing | 100 tokens – $10.99200 tokens – $20.99 (a 5% bonus)500 tokens- $44.99 (a 22% bonus)750 tokens- $62.99 (a 31% bonus)1000 tokens – $79.99 (a 37% bonus)1255 tokens – $99.99 (a 38% bonus)2,025 tokens – $159.99 (a 39% bonus)More than 2,205 tokens – $0.08 per token (a 39% bonus) |
Pros
Quality webcam streaming
Easy site navigation
Lots of free content
Multi-platform functionality
A large number of models
Cons
Expensive pricing
Unprotected payment methods
What is Nudelive?
Nudelive is a live sex video platform that connects users to performers through webcams. The website allows users to find their preferred style of content using broad categories and filterable searches.
A major advantage that Nudelive has over most porn sites is the fact that you get to see performances just as they happen. Most prerecorded porn movies follow scripts that can become dull and repetitive after a while.
That's not a concern with Nudelive. The website gives you unlimited access to many live sex cams so you can watch the action as it happens.
Signing Up
Signing up on Nudelive is a snap — it takes only a few clicks and some basic information. The website is free to access, but signing up gives you some extra benefits.
For one thing, you get access to both public and private live sessions. These live streams give you the chance to watch videos alone or alongside other viewers. The performer chooses whether they want to stream to multiple customers or go one-on-one.
Private live streams cost money in the form of tokens. You can also spend tokens to tip performers or to gain access to their exclusive photosets and videos. Naturally, you can't buy tokens without creating an account.
When signing up on Nudelive, you'll be prompted to provide the following information:
Username
A strong password
Email address(optional)
Date of birth
Gender identification
Agreement to Nudelive's Terms and Conditions
Agreement to Nudelive's Privacy Policy
Models
In contrast to some cam sites, Nudelive lets you filter its streams by your favorite category. Choose from cam themes such as Big Ass Cams, Big Tit Cams, Lesbian Cams, College Cams, and many more. You can then further filter the results by the model's age and location.
You're also not limited to girls. Pick your kink!
Girls
Individual camgirls make up most of Nudelive's performers. Whether you're focused on a particular look or a certain kinky activity, someone is online to fulfill your fantasy live on camera! Nudelive's girls regularly interact with their viewers, often answering questions, playing sexy games, and taking suggestions for how to tease them next.
Of course, this is the 21st century, so many camgirls even play with sex toys that put you in the driver's seat. A tip menu on the screen will tell you how many tokens it costs to activate its vibrator or change its pulse pattern. You can literally give the hot babe on your screen an orgasm even from the other side of the planet!
And if you really want to make it personal, ask your model to take the show private.
Guys
Nudelive knows that some viewers want to see some masculine action too. Whether you're a woman or man, you'll find just the right sexy dudes to turn you on. Do you like lanky dudes in energetic stripteases? Maybe beefy bears jerking it? Or just want to watch big cocks firing ropes while you watch live? Give this section a look!
As with the women's cams, you can sort guys by location, age group, or popularity. There are generally over 1000 men streaming at any given time.
Couples
Sometimes, what you really want to see is two lovers railing each other. Nudelive's couples category is all about exactly that. Some online couples are married and spicing it up by showing off. Others are just friends with benefits who are willing to let you benefit too. You may even find a few gangbang cams here!
Watch hot models suck and lick each other off, bounce between positions, or even take orders from you, the viewer! If you're with your own partner, this may be a great thing to watch together for bedroom inspiration.
Transgender
Nudelive wants to meet everyone's sexual desires, so they don't shy away from trans performers too. Most of them are pre-op trans women — i.e. chicks with dicks. If you get turned on by the thought of tits and a big cock all in one package, this is the spot for you!
You get all the same filters for the trans cams that you see with other performers. Some models will even join forces with cis men or women for a truly multifaceted show.
Model's profile
The model's profile is often the first thing you'll see. It's a simple overview similar to a social media profile. The page lets you bookmark them so you can find them again later.
Each profile page will list info like the model's name, interests, age, location, the languages they speak, etc. Plus, you can get a look at their follower count to see how popular they are.
There's also space for the performer to talk a bit about themselves so you can learn more about them on a personal level. Some keep it brief while others like to let you know all about their passions and goals.
Nudelive Chat Features
Site members have the opportunity to chat with the models throughout their shows. This is true whether or not you choose to buy tokens. However, be aware that you must be logged in to comment.
When you first open the cam room, the chat will display the local rules. Breaking them may get you banned from the room.
Public chat
Generally, your comments will be visible to everyone watching that stream. That gives you the chance to see what everyone is suggesting and potentially meet like-minded viewers. Plus, the model may choose to respond to comments vocally or they may type their own answers in the chat.
Many other bits of info show up in the chat space. You'll see who is tipping and how much, so you know what it will take to start driving the action. Alerts for events, tip goals, or games in the room will show up there too.
Visibility
Unlike some cam sites, Nudelive's default interface is a full-window video space. The chat box and other info is displayed in semi-transparent form so you never miss any of the onscreen action. Even better, you can move the chat box around the screen and place it wherever is most convenient to you.
If you want the chat to look different, you have full control over that too. Just hit the settings tab and change colors, fonts, autocomplete settings, etc.
If you prefer to format the screen differently and give yourself a larger text box, Nudelive gives you that option. The versatility in the site's viewing options is one of its high points.
Private chat
Nudelive streaming rooms do offer a private messaging option. Just click the "PM" tab above the chat box. That will keep your communication away from the prying eyes of other viewers, giving you a little private conversation with your favorite sexy model. Be understanding, though — when they're in the middle of a busy show, they may not have time to answer everyone's private messages.
The exception to that rule is private shows. Obviously, if you pay for a private session between just you and the model, all of their interaction goes only to you and nobody else sees what you type.
Remember that every performer is different, so they expect different things from their viewers. Some may find degrading language hot while others want you to be respectful. Never forget that they are real individuals, so you must treat them as such.
Some performers will employ moderators to enforce the public room rules while they're busy putting on a show — it's hard to fuck yourself silly with a dildo and boot rule-breakers all at the same time, after all!
Nudelive Streaming Quality
The video quality on Nudelive is very good. In the past, webcam sites have been notorious for choppy motion and low resolution. Nowadays, though, both webcam and internet streaming technologies have largely caught up with modern expectations.
The overall video quality depends primarily on two things: the performer's webcam and your internet connection speed. Models know their viewers will quickly disappear if their video looks blocky or blurry, so they're quick to invest in quality cameras. Generally, if it ends up buffering, the trouble has to do with your connection.
Most models on Nudelive film using at least 720P video quality. That's the same quality that many Netflix users use to stream their favorite movies. We will note that some other cam sites do offer higher resolutions, but 720P is usually enough for most users.
Payment Methods
Unlike many other streaming platforms with limited payment methods, Nudelive accepts many methods. Pay for your tokens in whichever way you're most comfortable with:
· Credit Card
· Debit Card
· Paypal
· Wire Transfer
· Bitcoin
· Money Order
· Certified Check
You don't have to pay anything to become a basic member on Nudelive. But doing so lets you buy tokens and access cam-to-cam features. Tokens can then be exchanged for private shows or given to performers as tips.
Pricing on Nudelive
On Nudelive, users buy tokens to gain access to special features. These are the prices of tokens on Nudelive:
· 100 tokens — $10.99
· 200 tokens — $20.99 – (a 5% bonus)
· 500 tokens — $44.99 – (a 22% bonus)
· 750 tokens — $62.99 – (a 31% bonus)
· 1000 tokens — $79.99 – (a 37% bonus)
· 1255 tokens — $99.99 – (a 38% bonus)
· 2,025 tokens — $159.99 – (a 39% bonus)
· More than 2,025 tokens — $0.08 per token – (a 39% bonus)
Here are the reasons why users buy tokens on Nudelive:
To buy access to models' private picture albums and videos
To tip a model for a great live video performance
To buy access to private or group shows
Nudelive's Mobile Site
Sometimes your eyes need a little stimulation even when you're not at home. Maybe you're out on vacation. Maybe it's a boring business trip. Hell, sometimes you just need a quick fix as you lay in bed. Nudelive understands all that and has optimized its mobile site to work with smartphones and tablets.
The mobile site's layout is altered to fit the smaller screen, but it's just as simple to understand and navigate as the desktop one. Switch between Women, Men, Couples, Trans, and Private Shows by tapping the three-bar button at the top.
There's only a tap or two standing between you and your preferred camshow. Chat from the mobile site is just as simple as texting. And if you wish to open a cam-to-cam show, you already have a selfie camera and microphone built in!
If there's a downside to the mobile site it's the small screen size. You can still watch in full resolution, but the screen may not be big enough to see as many details as you like.
Nudelive Verdict
Demand for creative porn is ever-increasing. Creative performers are ready and willing to make the most of new technology as it becomes available. It's little wonder that Nudelive is one of the top adult sites on the web.
Nudelive has operated for over eight years. During that time it has consistently aimed to deliver top-notch sexual content, and has maintained its position as one of the internet's best sex-cam sites.
Although the website has its downsides, it is still one of the absolute best choices whenever you need some explicit titillation. The site's interface is simple, you don't have to jump through hoops to watch the livestreams, and you get to choose from 100,000 different performers. Your favorite sexual fantasy is just a click away.
Frequently Asked Questions
Can I talk to the webcam performers?
Yes. After signing in, you talk to performers through the text chat feature. You also have the option of speaking directly in a cam-to-cam session, though you must buy tokens at least once to unlock this feature. Your first token purchase upgrades your account and it stays that way from then out even if you never purchase any again.
Can I use Nudelive for free?
Yes, you can. You can even watch the sex cams without signing up. Many websites force users to sign up before they gain access to video streams, but such is never the case with Nudelive. The website has thousands of free sex cams for everyone.
In order to chat, you need to create a free account. To watch private or cam-to-cam shows, though, you must make a purchase.
How do I go live as a performer on Nudelive?
Unlike many porn sites, Nudelive specializes in live shows. What you see on screen is happening right that moment. The only pre-recorded videos you'll find are the ones available for purchase on models' profile pages.
If you wish to become a Nudelive model, the first step is to create a performer's account. The company will have to verify your identity and age, so you'll be required to upload your ID before you can begin performing.
Also note that you'll need a strong internet connection, a computer, and a webcam. Generally, a high-quality webcam is best.
Is Nudelive Safe?
Nudelive is a very safe website to use. It ensures your privacy by allowing the use of nicknames in place of real names. Also, you don't necessarily need to add your email address to sign up.
Payments are made through an encrypted system. And if you want to stay anonymous even from the Nudelive system, payment via Bitcoin is always an option.
Is Nudelive a Scam?
According to the website, Nudelive receives up to a million visitors monthly. This implies that a million people trust this website not to rip them off. That, coupled with the fact that Nudelive has been in operation for so long, is a strong indicator of its legitimacy. Webcams may have a historical reputation for fraud, but dishonest operations never last long.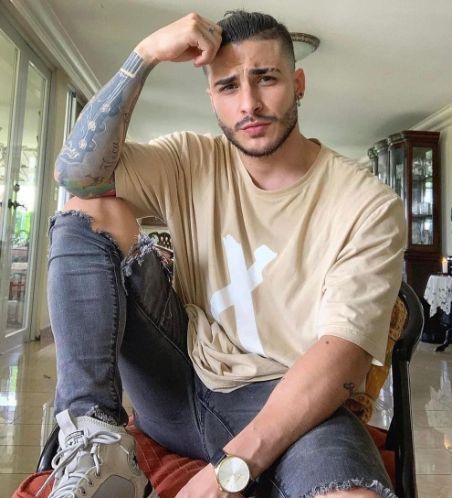 Brian Heimann is a seasoned cam model and expert in the adult entertainment industry. He has worked with top cam sites and knows what to look for when reviewing them.