| | |
| --- | --- |
| Site | https://chaturbate.com/ |
| Languages | English, German, Spanish, French, Italian, Chinese, Polish, Portuguese, Russian |
| Payment options | Credit card, debit card, wire transfer, Bitcoin, money order, certified check |
| Pricing | $10.99 per 100 tokens |
Pros
You can register without your email.
Features a wide range of amateur models.
Sexy selection of models.
Easily find models with search tags.
Easy to get access to self-broadcasting.
Cons
Features irritating ads.
Interface is outdated.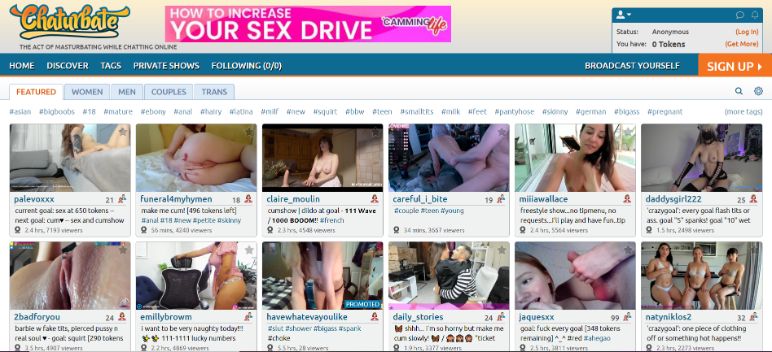 One of the most popular adult cam sites out there is Chaturbate, known for its variety of sexy models and shows. The cam website is especially ideal to find cute and clumsy amateurs who are still learning how to explore their bodies and talk dirty. Let's find out what you can expect from watching provocative sex shows on Chaturbate.
Signing Up at Chaturbate
Chaturbate allows you to sign up for free as long as you're 18 years old and over. You can chat with sexy models and watch the most intimate and horny videos. You won't get bored on the site, and it's not compulsory to offer your email when you sign up.
The Chaturbate website is easy to use and navigate. Every video is tagged, and this helps you find what you're looking for. Plus, you can figure out how to use it in a few minutes. Your data is also protected, and all the models with their sexy pussies and dicks are real.
Here's how you can sign up on Chaturbate:
Open the website and click on Sign Up at the top-right corner of the screen.
Enter your username, password, birthday, and your sexual preference. The email address is optional.
Confirm that you have agreed to the terms and conditions.
Click on Create Free Account and start watching the sexy models.
You can expect endless entertainment from the dirty and nasty models on Chaturbate.
Models
The main point of signing up on a cam site is to see sexy performers get down for you and satisfy your horny wetness. Luckily, Chaturbate focuses on meeting all the needs you can think of. Whether you want a sexy girl or guy masturbating for you, a couple to explore, or provocative trans models, there is an option for you on Chaturbate. Plus, these models can do almost anything, so let your dirty fantasies run free.
Girls
In the Women section on Chaturbate, you have access to some of the sexiest and filthiest models, regardless of their age (18+) and preferences. These sexy babes have some provocative thumbnails, some with a clear picture of their pussies so you get turned on before even clicking.
Look out for sexy girls with big boobs, mature babes, Asian sluts, dominative MILFs, and amateur teens on Chaturbate. All you have to do is scroll down and choose the babe that you want, as hundreds are online at each time.
Chaturbate also has some unique tags for women, so you can check out pregnant models that are ready to go down and dirty, fuck machines, anal play, squirting babes, and more. The girl's section is very extensive, with babes from around the world ready to get down for you.
Guys
Whether you're a straight woman or a gay guy, there is a sultry and mouth-watering selection of hunky, big-dick men that you can watch on Chaturbate. You'll be surprised at how many male cams Chaturbate features, especially since this feature is hard to find. Some of these male models even use Lovesense.
Look out for young and sexy 18-year-old guys that you can teach or dominant and buff 30-year-olds that will definitely dominate you. Some of the tags in the section include femboy, hairy, big cock, Asian, daddy, young, twink, small cock, and more. There's something for everyone on Chaturbate.
Couples
Chaturbate ensures that all its horny viewers are well-fed, so it features hundreds of couples cams. If your thing is watching two people go down and dirty for you, or you enjoy watching exhibitionists, then this section is perfect for you.
Look out for lesbian, straight, or gay couples, MILFs with younger people, deep throat shows, squirt, anal, BDSM, pregnant couples, milk, and more on Chaturbate. You can let these couples know just what you want to watch, and they'll offer you the sexiest show of your life. These couples come from around the world, from Latina and Asian to ebony and blonde.
Trans
Trans models are usually scarce on cam sites, but you can get up to your fill with Chaturbate. The site has over 100 trans models to get down with, and there are even trans couples that you can wank to. These sexy models can show you anal shows, ass play, anime concepts, asshole, BDSM, and more.
Regardless of what turns you on, you'll definitely get wet on the collection available at Chaturbate. Get ready to meet trans models from around the world that are eager to please you.
Model's Profile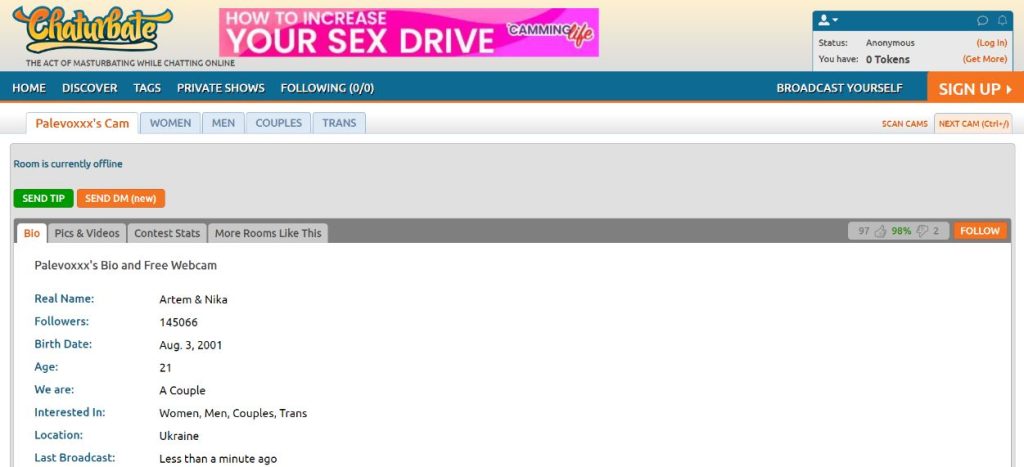 Chaturbate is a wild place to be when it comes to anything sex-related. There's no kind of model that you can't find here, regardless of age, nationality, sexual orientation, and body type. Chaturbate makes it easy for you to learn more about these models by offering a detailed profile. Simply click on the model's name, and it shows you a detailed bio.
The first part will show you the model's name, followers, birth date, age, and whether the model is a man, woman, couple, or trans. It also includes their sexual orientation in case you prefer to check before spending your tokens. You can also find out where the model is from and the language they speak on Chaturbate
In the second part of the profile, you can view some sensual and horny videos and pictures of the model. Learn more about their body by seeing these provocative pictures, and if they turn you on, send a tip, a DM, or start a private show on Chaturbate.
Chaturbate Chat Features
For one, Chaturbate allows you to watch a lot of content for free. You don't have to pay before you can see one of their sexy Chaturbate models stark naked, masturbating, using sex toys, or even having sex. With the public shows, the models will do all sorts of nasty things as long as viewers keep sending tokens.
Once you create an account on Chaturbate, you can chat, send tokens and also become involved with the models. If you're lucky, you can send so much and become the best lover or the latest kiss of the model. There are also a lot of amateur models on Chaturbate, so check out the video thumbnails with NEW on them.
How to Chat
When you open a live show on Chaturbate, you get the model's screen at the left side, while the right side has the chatbox. You can send messages, see the messages from other viewers, and also the activities like those who have sent tips.
On top of the screen is the goal for the show, and once you meet the goal, you get all your sexy dreams to come to life. Under the model, you see the options to send a tip, get more tokens from Chaturbate, do a cam-to-cam or start a private show.
Types of Shows
There are different kinds of shows on Chaturbate aside from the public show. When you click on Start Private Show, you can enter a private session with just you and the model. Get ready to get wet because this is more intimate than the general shows.
Если вы вуайерист или не можете позволить себе частное шоу, вы можете вместо этого пойти на шпионское шоу . Это дает вам доступ к приватному шоу кого-то другого, но Chaturbate разрешает это без чата или отправки советов.
Another option is the cam-to-cam show, and this allows the model to see you getting wet and dirty for them as they are for you. This Chaturbate feature allows you to have full access to the model and enjoy provocative sex shows.
Diverse Tags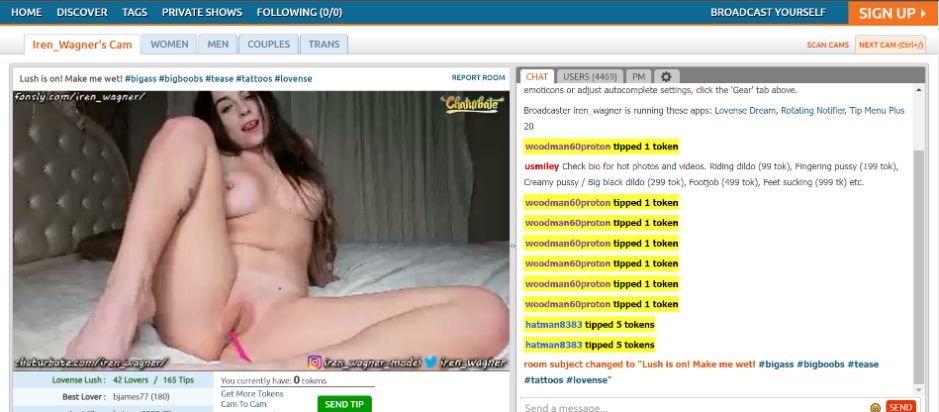 It's easy to find the type of model you're looking for because of all the tags available. You can simply click on one tag, like anal or squirt, and you will see all the models that offer this feature. Also, Chaturbate has different kinds of tags depending on the section you are in.
When you check the homepage before clicking on the show you want, you see the age of each model on their thumbnail, from 18 to even 50+. You can also see their region, the type of show that they perform, and the tags. If they're performing, you can see the description of the Chaturbate show.
Chaturbate Streaming Quality
Chaturbate offers top-notch streaming quality as a leading cam site, so you can enjoy the sex shows and get wet with a clear show. It's much better to watch a show that's meant to turn you on with a clear and vivid screen.
Keep in mind that many of the models on Chaturbate are amateurs, and so they film their content with phones and webcams. They might not have quality cameras for HD, but Chaturbate solves this problem with an HD option.
You can select the resolution of your show, including HD, and increase the quality. You will see an HD button on the screen where you can increase or decrease the resolution. Keep in mind that the quality of your internet connection also matters in this.
Pricing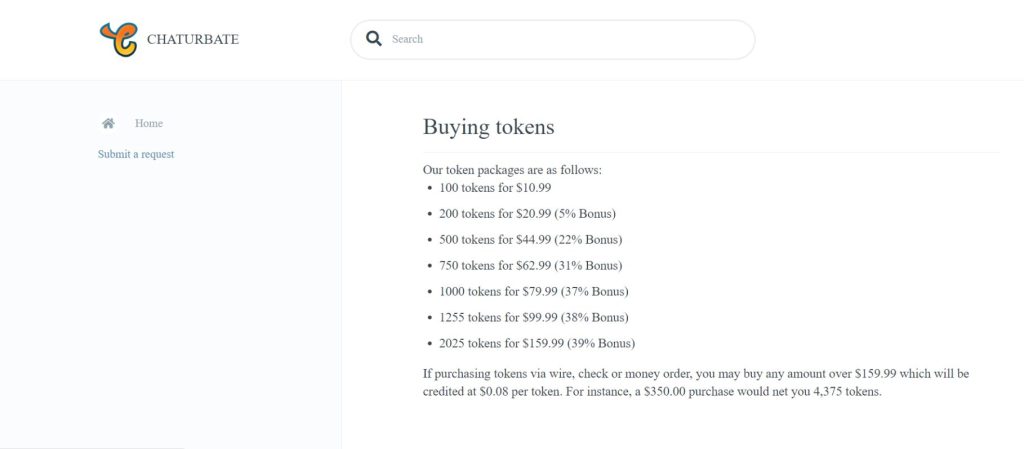 Chaturbate does not have any membership or premium plans. Instead, you can simply purchase tokens and use this to send tips and pay for the different shows. The cheapest you can buy is 100 tokens for $10.99, while the most expensive is 2025 tokens for $159.99.
If you're buying more than this, you will pay $0.08 for every token. Keep in mind that Chaturbate places limits on all its accounts, so you might meet your daily, weekly, or monthly limit when spending a lot. You can use this feature to control how much you spend on these sexy sluts, and increase or decrease it whenever you want.
While you can send the tokens you want in the group show until you reach the target, private shows depend on the model. Models can charge up to 60 tokens per minute or more, depending on their popularity and what you want them to do.
Payment Methods
There are convenient payment methods available on Chaturbate so anyone can get started with the site. Also, keep in mind that the billing is done discreetly, so no one will know what you're using your money to do in your free time.
The payment methods include
Credit card.
Debit card.
Wire transfer.
Bitcoin.
Money order.
Certified check.
Chaturbate Mobile Site
If you prefer to watch the sexy and nasty models on Chaturbate on your mobile device, you can do so easily. Chaturbate features a seamless website that is compatible with your smartphone browser, whether it is iOS or Android device.
The website was redesigned for easy navigation. On the homepage, you can see the clear thumbnails of all the models shown, and it looks even clearer because of the smaller screen. Also, the tags are arranged at the top, and you can swipe through them.
With the menu on the left side of the screen, you will see the options to choose Women, Men, Couples, Trans, or Private Shows. You can also send messages, check your notifications, and more. When you click on the show, you can clearly see the show at the top of the screen and the chatbox at the bottom. It's also available to watch in full screen.
There isn't much difference with the mobile platform except that it is more convenient. Watch your favorite models fuck themselves while you're on the go or even when you're not at home. The smaller screen is no inconvenience.
Chaturbate Verdict
Chaturbate is one of the largest and most reputable cam sites out there. It continues to live up to its name as one of the best by offering a plethora of nasty and sexy models, regardless of what you're looking for. This attracts hundreds of users, and you can be one of them, watching the thousands of models available.
With the collection available to you, there's no doubt that you will find a model to take on a private show. Also, Chaturbate focuses on providing a seamless user experience regardless of your budget, screen, or orientation.
Chaturbate comes highly recommended to anyone who wants to have sexy, fetish, dirty fun. Take your clothes off and prepare to get wet for these sexy babes.
FAQ
Is Chaturbate Safe?
Chaturbate is a safe site to watch sexy cam girls on. The site is completely secure, so you can rest assured about submitting your personal and banking details. It doesn't even need your email when you sign up, so if you're feeling unsafe, you can refuse to give it to them.
The cam site is designed to protect your personal information from third parties and hackers, and even the models will only see your username when you watch their show. If you want to remain fully anonymous, you can pay with Bitcoin.
Is Chaturbate a Scam?
No, it isn't. Chaturbate is a reputable website for a reason, and it is definitely not a scam. The website is owned by a legit company, and also, all the models and pussies are real. You won't see any thumbnails or pay for any shows, only to be scammed or met with a fake. You can even talk to these girls face-to-face with the cam-to-cam option.
If you're worried about being scammed, you can browse the site for free, and you'll be pleased to see how real and sexy the available models are.
How Do I Sign Up As A Performer on Chaturbate?
If you're looking for a site to become a cam girl on, even if you're an amateur, Chaturbate is an ideal choice since it is reliable and reputable. The website gives the models a sweet deal, and most of the viewers are ready to spend for a show.
Open the website and click on Broadcast Yourself. Then, create a free account and submit your age verification. It's also important to read the terms and conditions. After that, you can set up your webcam and start streaming. There are hundreds of shows live at every moment on Chaturbate, so do your best to look unique.
Can I Use Chaturbate for Free?
Yes, you can. Chaturbate is available for free, and there's so much you can see without paying a dime. Just by lurking around the site, you can view naked shows, masturbation, and even sex between couples. It allows you to see all you want in group shows since other viewers will be paying to reach the model's goal.
But you can't enjoy a lot when you don't pay, and Chaturbate isn't kind to lurkers. You can enjoy more things like commanding the model, doing video sex with them, starting a private show, and more if you open up your wallet and start paying. Although models on Chaturbate set their rate, it's nothing crazy.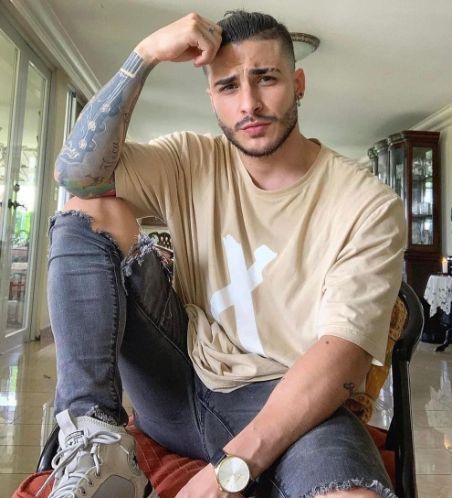 Brian Heimann is a seasoned cam model and expert in the adult entertainment industry. He has worked with top cam sites and knows what to look for when reviewing them.