Pros
Free cams available without signing up.
Explicit material is always available.
Includes free sex chat.
Cons
It is a copy of Chaturbate.
The site is a scam and unoriginal.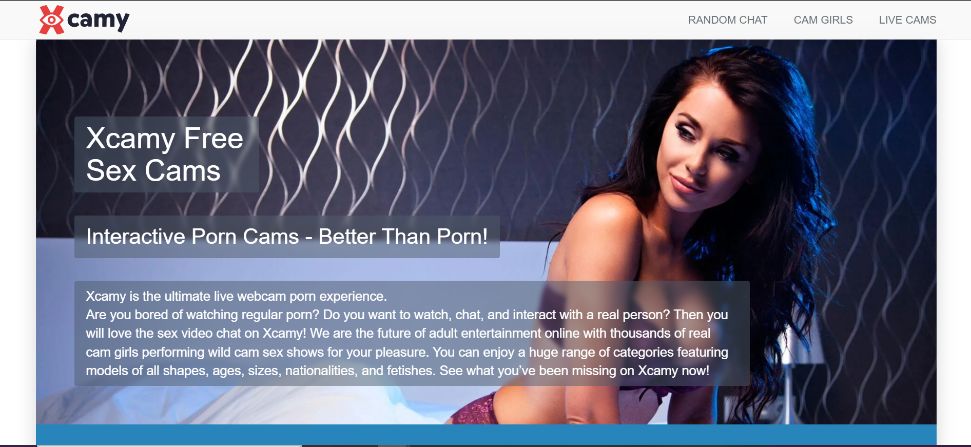 XCamy is a free live cam site with hundreds of adult models, including girls, guys, couples, and trans models. The main problem with the site is that it's a copy of Chaturbate, one of the leading cam sites. None of the features on XCamy are legitimate and original, making this an unreliable site. Here's our XCamy review.
Signing Up At XCamy
XCamy has a complicated process for signing up, especially since it's a copy of Chaturbate. When you open the site, you view an XCamy homepage but click on cam girls, and it takes you to a page that looks exactly like Chaturbate, except that the logo is of XCamy.
There is still no button to open your account, so you have to click on one of the cam shows. You can follow the steps below to sign up, but it's not advisable to choose this cam site.
Click on the cam show.
Select the sign-up to chat.
You will see a form to create a free account.
Input your username, password, email address, birthday, and gender.
XCamy has the exact same sign-up page as Chaturbate
Models
There are different kinds of models that you can find on XCamy, and while this is exciting to explore, it's disappointing that the cams are gotten from Chaturbate. This leaves you with sexy babes that you can better get directly from the source. Keep in mind that the model section is not well organized, and while you'll see a lot of female cams, you'll need to keep on scrolling or use the search button to find other genders.
Girls
The selection of models in XCamy is dominated by sexy women from around the world, and you can watch them go down and dirty whenever you want them to. These hot babes will do what you want for a pretty penny, and you can command them whenever you want.
It's not hard to find sexy girls available on XCamy. Once you click on the cam girls option, it takes you to a never-ending selection of nude and hot babes that are always eager to meet your sexual needs. The selection of models refreshes itself often, and the only filters are to choose their age and a few others.
Guys
XCamy also has a sexy collection of guy models that you can get wet to. Whether you need a sexy gay man or a straight hunk, you can enjoy these with the extensive selection of guy models. But the thing is that it's hard to find male models. You'll have to keep scrolling through the cams that are available until you see a guy.
There is also a search button. You can search for terms like gay, man, and similar words so that you can find the guy models.
Couples
There are many couple cams on XCamy that you can access. Even without searching for it, there's a good chance you'll see couple cams from the homepage. You will see lesbian, gay, and straight couples that are getting horny and wet for you.
You will also find threesomes and group sex shows as you explore the shows. If you can't find them, you can specifically check for them with the search option. Search terms like couple and threesome will work.
Trans
There's also a decent selection of trans models on XCamy, so you can enjoy wanking to these hotties. Simply search for trans, and you can view all the trans models that are available on XCamy. There are also trans couples that you can watch doing the nasty at your command. On the downside, all models on XCamy are obtained from Chaturbate.
Model's Profile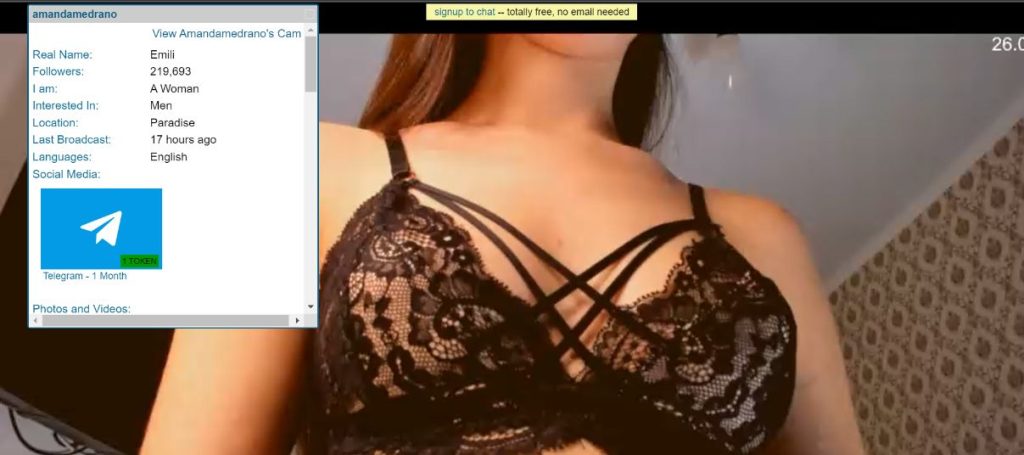 The model profiles on XCamy are the same as on Chaturbate, which is another sign of how this site is a copy and a scam. The cam site allows you to view the profile of the model to learn more about their body and what they will do for you. Click on the model's cam on the homepage first.
Put your mouse on the screen, and you can click on the profile icon at the top-left corner of the screen. Then, click on View Bio, and you can see the details of the model. It includes their real name, number of followers, gender, sexual orientation, languages, location, and even their photos and videos.
You can unlock the pictures and videos on XCamy with your tokens or become a part of the fan club.
XCamy Chat Features
There are different chat features on XCamy that you can take advantage of to enjoy talking to and watching babes. All the in-chat features in the models shown are the same as what Chaturbate offers, because this is an exact clone. The XCamy has different chat rooms and options that you can use.
Types of Shows
There are three main categories of shows that you can find on XCamy. You can click on cam girls, and this takes you to the selection of all the girls and other types of models that you can watch. Although the category is called cam girls, all types of models and even couples and threesomes, can be found there.
The other types of shows are live cams, and when you click there, you get easy access to all the models that are live at this moment. It's the same with the cam girls section. The random chat takes you to a separate website called Flingster, which is an unreliable way to chat with sexy babes.
It is unsure whether there are private chats, spy cams, and other types on XCamy since the website is confusing. It is not well organized and does not show you the different types of chats that you can show. Everything is a forgery of Chaturbate, and since it only has forfeited sex cams, it's advisable to sign up on Chaturbate instead.
How to Chat
If you want to start talking to the sexy babes featured on XCamy, you can do that easily. First, click on the model's show that you want to watch. They are all arranged in the section for the live cam or cam girls. This takes you directly to her show, which is a large screen and a small chat box in the bottom-right corner.
There, you can send a message to this model using the chat box option. You can send different kinds of emojis or click on the TIP button to send a tip to the model. In the chat box, you can view the messages sent by other viewers and the activities like who sent tips or who the top lover is.
On the side panel on XCamy, you can access different options. The first one takes you to the profile, send a PM, follow, or join a fan club. Under that is the option to see more rooms in case you're interested in similar models like the one you are watching. After that is the setting to send tips to the models.
After that is a button for the Users List. Aside from that, you will see options for modifying your chat options, like the volume or the quality.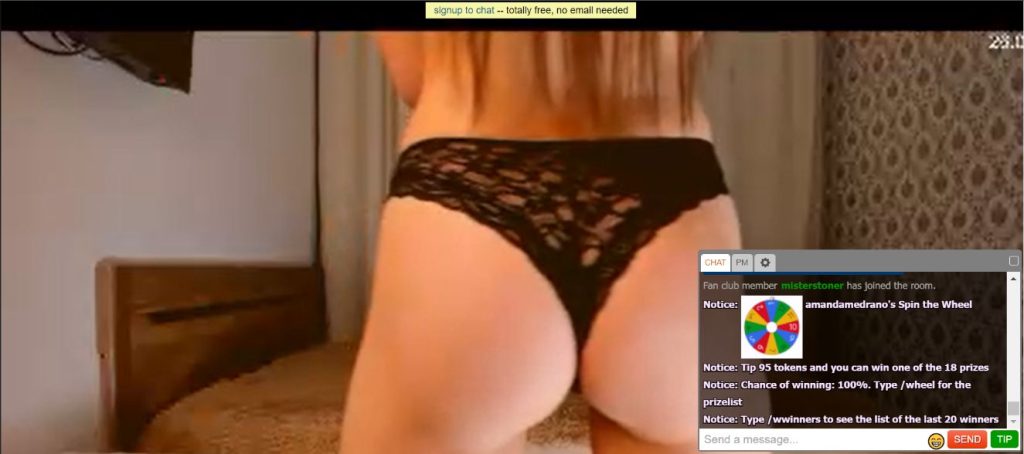 XCamy Streaming Quality
XCamy has poor streaming quality since it clones all its cams from Chaturbate. The cams usually look blurry, and you can see them more clearly if you use the original site instead of the clone. XCamy includes the settings to update the streaming quality, but it doesn't make much of a difference.
On the chat screen, you see the option to choose your quality from 240p to 1080p. The setting is usually automatic until you change it. The quality you get is mostly from Chaturbate since the site is known for its quality.
You have to keep in mind that having a poor internet connection will greatly affect the streaming quality on XCamy. The shows can hang, be very blurry, load for a long time, or even stop showing.
Pricing

The pricing on XCamy is unclear since it is cloned from Chaturbate. If you check the terms and conditions, you get exactly what is on the Chaturbate site. It is not advisable to pay on this site because it is unreliable. The site uses tokens, but there is also no guarantee that the money being paid goes directly to the models on Chaturbate.
Payment Methods
If you want to make payments on XCamy, you can only do that with one option, and that is credit or debit cards. The payment methods are very vague, like any other thing on the cam site.
XCamy Mobile Site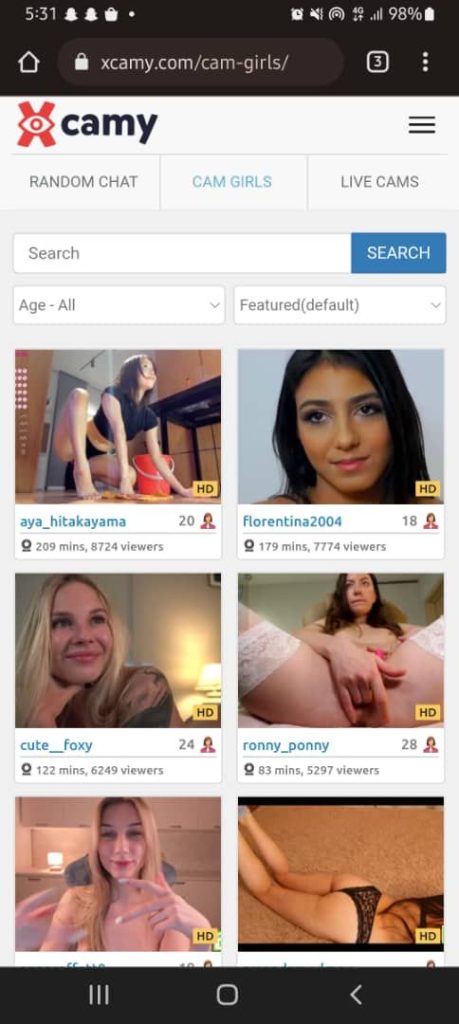 You can access XCamy on your mobile device directly by opening the website on your browser. You don't need to download an app to view the site, and it is well-designed for mobile use. It is important to note that XCamy is just like Chaturbate on mobile too, so nothing about this site is original.
Once you open the site, it shows you the homepage, and you can use the hamburger menu at the top right corner to navigate to random chat, cam girls, and live cams. Click on any of these models, and you get a well-designed mobile show on XCamy, which is not surprising since this is Chaturbate style.
XCamy Verdict
If you're looking for a reliable cam site where you can jerk off on, XCamy is not recommended. The site is a complete clone of Chaturbate, which makes it a scam and unsafe. It has a poor reputation online too. Instead of taking your chances with the site, you'll do better for yourself by going directly to Chaturbate.
The cam site has an extensive collection of shows, and you can watch a lot of them without paying. Nude content is available for free too. You can access it on your mobile and find some of the wildest couples. But, it's all due to Chaturbate.
FAQ
Is XCamy Safe?
XCamy is not safe for use as it is an unreliable site. You should avoid signing up or submitting your personal information to the site.
Is XCamy a Scam?
Yes, XCamy is a scam because it clones the models and performances from other sites. The site is not real, so it's inadvisable to use it.
How Do I Sign Up As A Performer on XCamy?
If you want to sign up as a performer on XCamy, the website will take you to Chaturbate instead. It's better to go directly to Chaturbate and click on the option that says Broadcast Yourself.
Can I Use XCamy for Free?
A lot of the content available on XCamy is free. You can see nude and sexy content without paying, and you don't even have to sign up. But you get more perks when you sign up.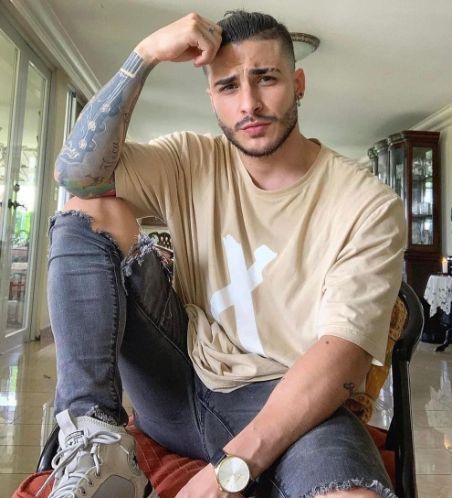 Brian Heimann is a seasoned cam model and expert in the adult entertainment industry. He has worked with top cam sites and knows what to look for when reviewing them.