| | |
| --- | --- |
| Site | https://cam4ultimate.net/ |
| Languages | English, German, Spanish, French, Italian, Portuguese, Norsk, Svenska, Nederlands |
| Payment Options | Credit card, PayPal, bank transfer |
| Pricing | $1 per 1 GOLD |
Pros
Thousands of HD sex cams on desktop and mobile.
No ads on the site.
A lot of content is available for free.
Cons
It is a clone of Streamate.
You cannot download model videos.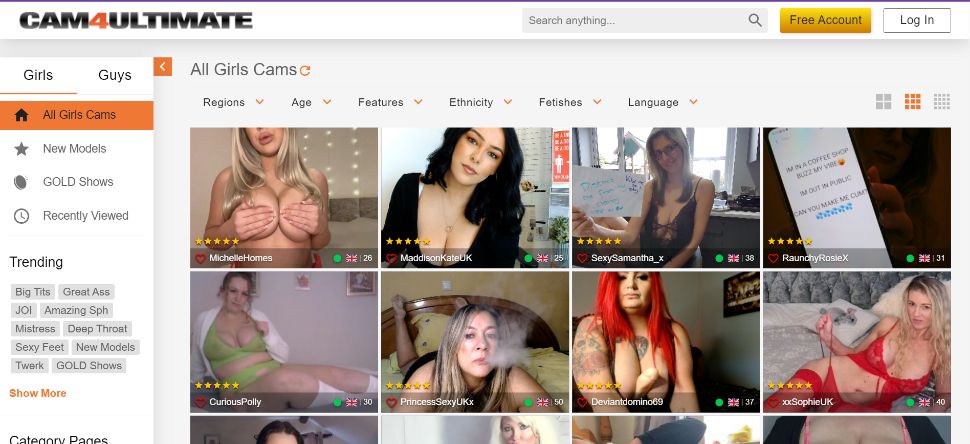 Cam4Ultimate is a cam site that features thousands of sexy models from around the world willing to please you. The problem is that this is not an original webcam site but a clone of Streamate. Cam4Ultimate copies everything from the model shows and site interface to the FAQ section and pricing system. Let's take a closer look.
Signing Up at Cam4Ultimate
The process of signing up at Cam4Ultimate is the same as Streamate since the site is an exact copy. If you want a smooth experience, you should go for Streamate directly. With Cam4Ultimate, you can explore the horny models doing their thing without signing up. But once you make an account, you can get the most out of these sexy babes.
Here's how you can sign up on Cam4Ultimate:
Open the site and click on Free Account.
Enter your email, nickname and password.
Select your method of payment.
Create your account.
Once you sign up on Cam4Ultimate, you can start watching these horny models go down and dirty for you.
Models
There is a wide range of models available at Cam4Ultimate, whether you want to jerk off to a gorgeous Asian babe or get wet to a sexy Latino hunk. There's something for everyone to get wet to, and these models are eager to go down and dirty for you. Keep in mind that all the cams on Cam4Ultimate are copied from Streamate, so you can do better for yourself by watching from Streamate directly.
Girls
The Cam4Ultimate is divided into Girls' and Guys' cams, exactly how Streamate is designed. If you're a straight guy or a lesbian looking for horny girls to suck you off, you can check out the Girls section. From new amateur models to mistresses and MILFs, these sexy babes are always eager to please.
On Cam4Ultimate, you can filter the girls' cams based on your preferences, from their region and age to their ethnicity and language. You can even choose their features, like whether they use an interactive vibrator. There are tens of categories of ladies, like feet fetish, group sex, big tits, bondage, anal sex and more.
Guys
If you're a gay guy or a straight woman that wants to wank to some sexy daddies, Cam4Ultimate has a separate section for that. Just like in Streamate, click on Guys, and you get access to all the guys' cams. Some of the popular options are feet, big cock, daddy, uncut, tip vibe and tattoos.
You can also filter the male models on Cam4Ultimate based on region, age, ethnicity and language. Look out for gay, straight and bisexual men, bears, guys next door, and athletic and BDSM models.
Couples
Sometimes, you need more than one model to do it for you. This is why Streamate offers couples sections in the Guys and Girls categories, and so, Cam4Ultimate cloned this feature too. There are not always a lot of couples online too.
You can look out for straight, gay and lesbian couples. Gay couples are usually under the Guys' category, and in the Girls' category, you can see different straight and lesbian couples. There are separate sections for group sex.
Trans
If you'd prefer some sexy and nasty trans models for your pleasure, look out for the Transgirl and Transboy selection under Girls and Guys. Streamate is known for an extensive selection of trans models, so you can find this on Cam4Ultimate. It's advisable to sign up on Streamate for legitimate access.
Model's Profile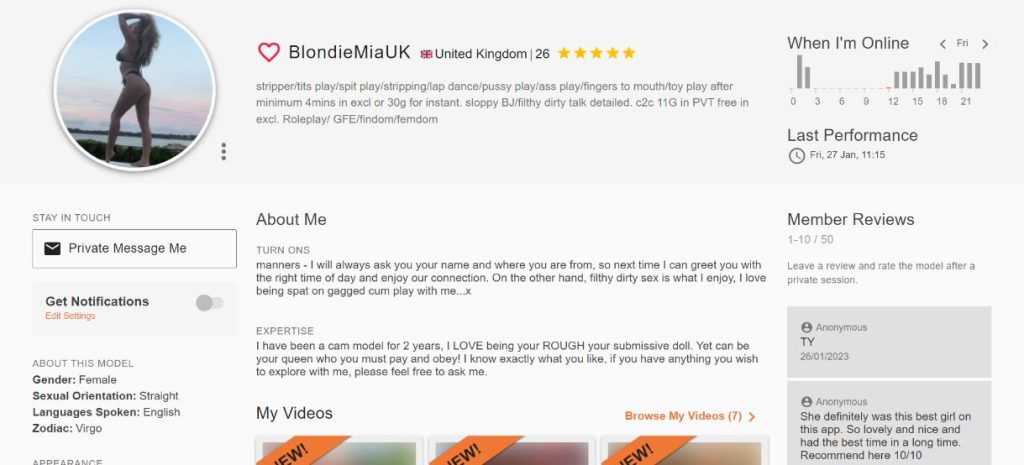 Before you start wanking to the sexy babes on Cam4Ultimate, you can check out their profiles to learn more about them and see reviews from other viewers. Click on the live show, and once you scroll down, the model's profile is clear. It is exactly the same as on Streamate.
In the profile, you can view a short bio of the model, what turns them on and their expertise. You can see about the model, appearance and features, too, down to their cup size, pubic hair, and sexual orientation. The profile includes photos and videos of the model, mostly paid.
Cam4Ultimate Chat Features
Cam4Ultimate allows you to watch models live in public shows for free, and then you can pay to take them to private shows. You can watch it directly on Streamate to get the best from these sexy models.
There are different kinds of shows on Cam4Ultimate and also chat features that will improve your experience. Plus, you can use the chat features without signing up.
How to Chat
It is easy to chat with models when you use Cam4Ultimate. All you need to do is click on the show that catches your eye. You can explore the selection of male and female models that are live at that point in time and click on one. This takes you directly to the show that you want to watch.
You can start watching the model in the public show and send messages in the chat box on the right side of the screen. It allows you to send messages and view messages from other viewers. It will also show activities like who sent tokens and more on Cam4Ultimate.
Right under the screen, you see a button to give the model GOLD and another one to take them to a private show for more intimate fun on Cam4Ultimate. There is a button to enter full screen, refresh, change the screen resolution and also increase or decrease the volume.
Types of Shows
There are different kinds of shows on Cam4Ultimate, and it is the same with Streamate. You can watch the public show with other viewers. There is also an option to take the model to a private show. This is more intimate and is available to those that have signed up and made a payment at least once on the site. The model will set the price per minute for their private show, so check it before going forward.
Another type of show is the GOLD show. Some shows are GOLD shows, and you can find them by using the tag on the homepage. In GOLD shows on Cam4Ultimate, a few members chip in a certain amount of GOLD to watch. The model will set the price for each member and how many members they want to watch their show.
It's also possible to send private messages to the models even when they're not online. If you want a more intimate show, try out the Cam2Cam option that allows the sexy model to see you as much as you see them.
Cam4Ultimate Streaming Quality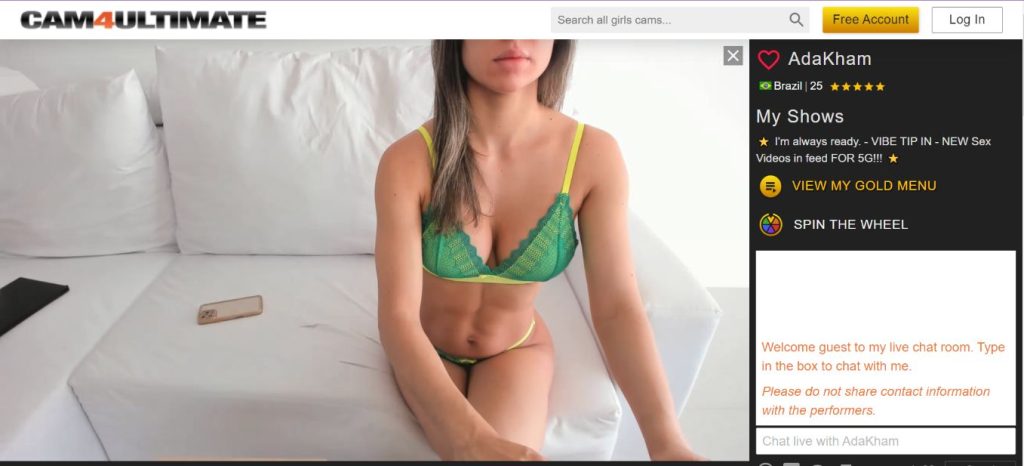 It's not surprising that Cam4Ultimate has good streaming quality, especially since Streamate offers top-notch quality for its viewers. You can easily view the models and every bit of their sexy shows, from their wet pussies to their plump boobs. The streaming quality is dependent on your internet connection.
If you have poor internet while using Cam4Ultimate, you can expect to be disturbed by blurry images, cracking, hanging and more. Only use Streamate when you have good-quality internet.
Cam4Ultimate allows you to edit your screen resolution the same way Streamate does. But, the options are only raw and auto. Also, keep in mind that even if you improve the streaming quality, while the picture will look better, it will make the streaming inconsistent.
Pricing
The currency used in Streamate is called GOLD, and this is the same with Cam4Ultimate. The cam site allows its users to pay for shows and pay tips with GOLD. The pricing is $1 per 1 GOLD. In terms of the private shows and GOLD shows, the model sets the price.
Private shows can cost up to $8 per minute on Cam4Ultimate. If you want to purchase the video or photos of the models, you can do that in real-world currency, and it can cost as low as $10 or as high as $100.
Payment Methods
There are different payment methods available to the users on Cam4Ultimate. When you want to sign up on the cam site, you will choose the payment method that you will be using. They include
Visa
MasterCard
Discover
Instant Bank Transfer
PayPal
It's not advisable to share your banking information with Cam4Ultimate since the site is a clone.
Cam4Ultimate's Mobile Site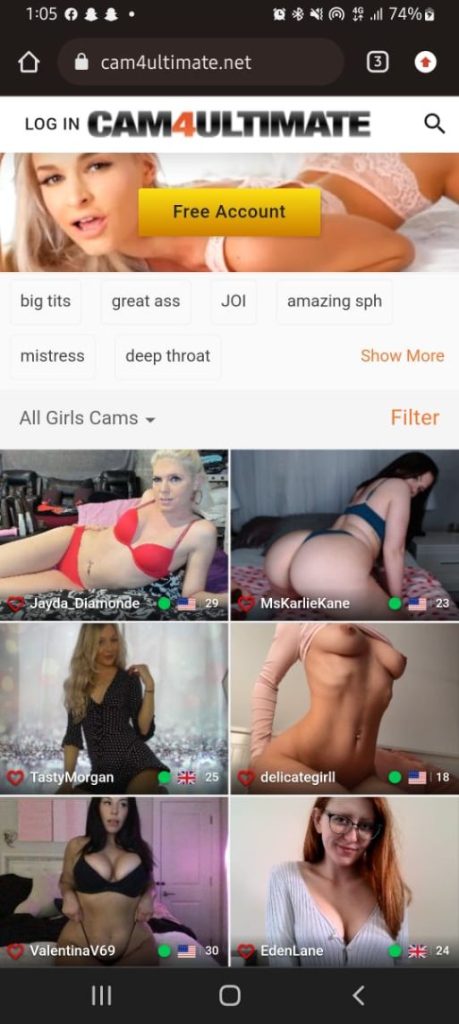 If you prefer to watch the sexy cam girls on Cam4Ultimate while you're on the go, the site is compatible with your mobile device. Like any other thing on this site, the mobile version is also a clone of Streamate. This means it is well-designed and easy to navigate. It is also compatible with different browsers and devices.
There is a drop-down button that allows you to choose the category you want, whether girls or guys and also the different filters like hairy pussy, medium tits, non-nude and more. When you click on the show, you can watch it on top of the screen with the chat box at the bottom. It is also easy to access the profile from there.
Cam4Ultimate Verdict
If you're looking for a cam site to watch sexy babes that will turn you on and wank to them, you should avoid Cam4Ultimate. Although it features hundreds of live shows, different kinds of models and free content, the website is a clone, which means that every single bit of the site is copied from Streamate.
It's not reliable to watch your sex content on a clone site because it is a scam. Instead, you can look out for more reliable sites like the original version of Cam4Ultimate, which is Streamate.
FAQ
Is Cam4Ultimate Safe?
Cam4Ultimate is not safe because it is a clone website. It is not advisable to give this site your personal or banking information, as there is no data about the owners.
Is Cam4Ultimate a Scam?
Yes, Cam4Ultimate is a scam because it copies its model shows and features from a more popular cam site. All the models are being streamed on Streamate and cloned to Cam4Ultimate at the same time.
How Do I Sign Up as a Performer on Cam4Ultimate?
If you're thinking of becoming a cam model, you should go for Streamate directly instead of Cam4Ultimate. When you click on become a model on Cam4Ultimate, it takes you directly to Streamate.
Can I Use Cam4Ultimate for Free?
Yes, you can. There's a lot of content available on Cam4Ultimate that you can watch for free. But you can only enjoy the features of the site when you sign up and start paying.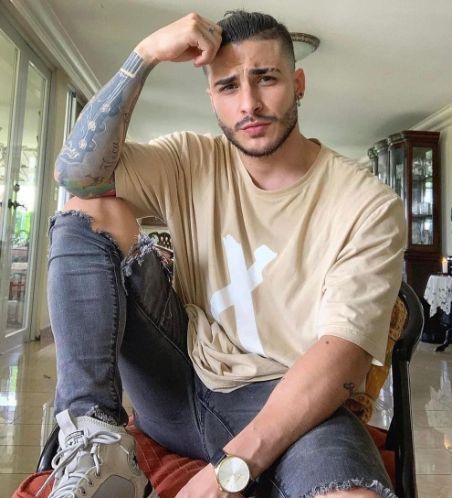 Brian Heimann is a seasoned cam model and expert in the adult entertainment industry. He has worked with top cam sites and knows what to look for when reviewing them.